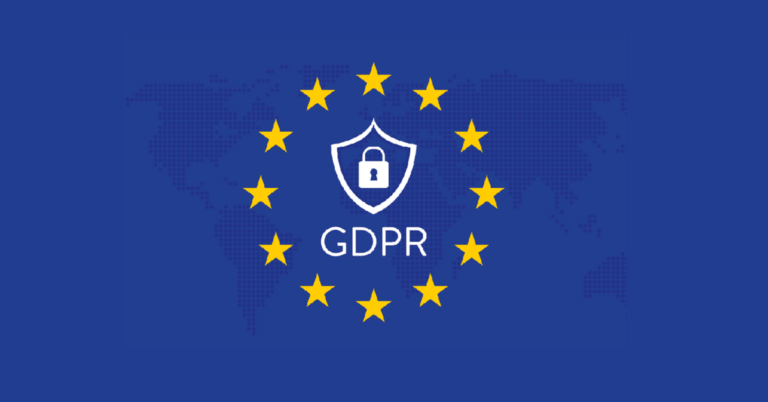 10 Best GDPR Compliance WordPress Plugins(Updated) – 2020
What is GDPR and What GDPR Compliance WordPress Plugins exactly do?
You might have these types of queries on your mind, Right? So, let's start:
GDPR stands for General Data Protection Regulation. It is the regulation or new law for the protection of personal data and privacy for the individual members within the European Union. This law applies to all the European citizens or residents weathers they have a large business or small business. If you have visitors from the European countries then this law is applicable to you too.
GDPR Compliance WordPress Plugins can help you and your website by providing the features and settings that meet all the GDPR Compliance requirements like data access, privacy policy, cookie consent, data eraser, and data breach notifications and more.
In this article, we have listed the Best GDPR Compliance WordPress Plugins for WordPress users. Let's Checkout:-
GDPR Cookie Consent
The GDPR Cookie Consent plugin by WebToffee helps comply with the GDPR law for the usage of cookies in a simple and easy way. Using the plugin you can easily add a notification informing the users of the cookies used by the website. The users can give their informed and explicit consent from this notification. Based on the user consent, the plugin helps block all the non-necessary cookies of the website until the users have given their consent.
GDPR Cookie Consent plugin is highly flexible and is compatible with other plugins including many popular multilingual and cache plugins. You can also find the free version of this GDPR WordPress plugin to help comply with the GDPR Cookie Law. It also gives great customization options for the website owners on how they want the consent bar to look and options available to the users.
Additonal Features:
Automatic scan of the cookies used on the website
Automatic script blocking until the user consent
Show consent bar only for the EU
Categorize cookies to give users granular control
Maintain an audit of the consent
Consent withdrawal
Cookiebot Plugin
Cookiebot is a consent management platform with a powerful scanning technology that finds all cookies and trackers on your website and gives your end-users control of their own data and privacy. It is a cloud-driven solution that enables full compliance with the world's data protection laws, like GDPR, ePR, CCPA, and more.
In addition, Cookiebot is a best gdpr cookie consent free WordPress plugin that used on more than 50.000 websites. Try Cookiebot free for 30 days, or forever if you have a small website
Additional Features:
Website scanner
Auto-blocking of all cookies and trackers
Granular, prior consent, ,and opt-out for GDPR and CCPA.
Highly customizable cookie banner.
Cookie declaration.
Monthly scan reports
Safe and encrypted storage of consents
Annually renewed consents
WP GDPR Compliance Free WordPress Plugin
WP GDPR Compliance plugin is a free one that allows the features such as data storage timestamps, a privacy policy link, user data request page, consent checkboxes, ,and many more. The latest updates have added the ability to add required 'Consents' which will always be triggered on page load. This plugin integrates with the major WordPress add-ons that support contact form 7, gravity, woocommerce, and WordPress comments.
Additonal Features:
Easy to setup
Data eraser
Data breach notification
cookie popup consent
Allow you to add a contact DPO(Data Privacy Officer)
Complianz GDPR Privacy Suite for WordPress
Complianz GDPR privacy suite comes with the conditional cookie warning and customized cookie policy which is an entire privacy management suite for WordPress. It scans your site for cookies and social media services which will completely block the third party cookies like Facebook, Google, Twitter.
It is available in both a free and premium versions. The premium plan has offers the following features:-
Optimize your Cookie Notification
Geo IP cookie warning
Inventory for data breaches
Multi-language support for the cookie warning
Respects Do Not track settings in users browsers
Ultimate GDPR Compliance Toolkit Premium WordPress Plugin
Ultimate GDPR Plugin is the all-in-one solution for your website that completely meets all the GDPR requirements. They create a dedicated box for Cookie Consent and automatically adds the consent boxes on your website. To check the currently activated plugins for GDPR compliance, this plugin integration with most popular WordPress plugins like WooCommerce, Contact Form 7, Gravity Forms, Mailchimp, Events Manager, BuddyPress, Formidable Forms and more.
Additional Features:-
Auto update functionality added to the plugin
Improved integration with Google Analytics
Automated data breach notification
Pseudonymization of user data stored for extra privacy
Added the advanced Cookies Management Panel
Total GDPR Compliance WordPress Plugin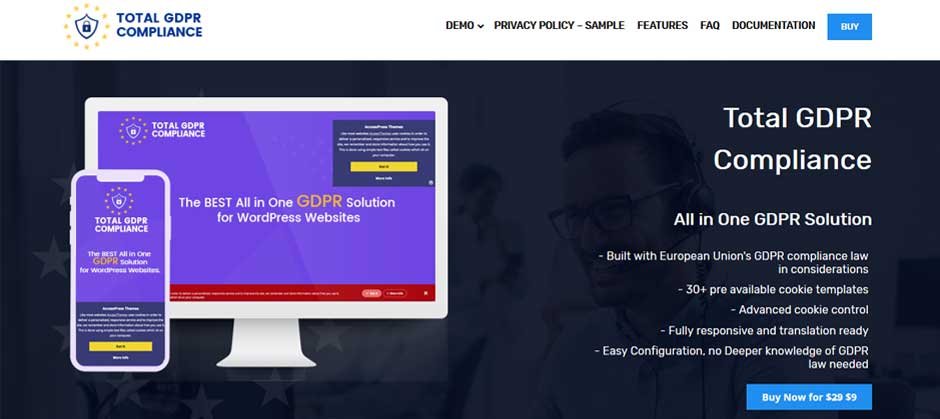 Total GDPR Compliance Plugin comes with all EU GDPR regulations in one click to make your WordPress site compatible. The plugin includes advanced cookie control which will pull or store any kind of data on the site or block them at the macro level. In addition, Total GDPR Compliance offers Consent box for different WordPress sections, protected content via a shortcode, set up a data breach notification, and more.
Additional Features:-
Compatible to Almost all of the European Union's(EU) GDPR Regulations
Consent for Default WordPress Sections & Third Party Plugins
Fully responsive and Customization Options
3 Different Layouts and 30+ Cookie Templates
Easy Interface and Shortcode Ready
WordPress GDPR Premium WordPress Plugin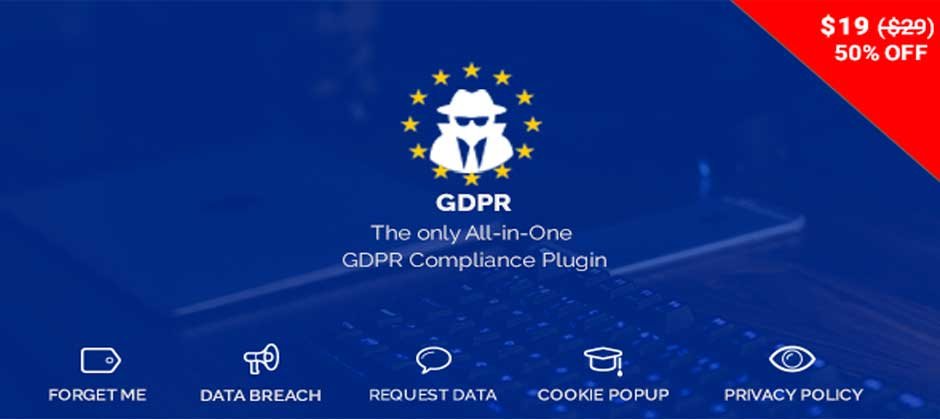 All-in-One GDPR compliance plugin solution that offers all GDPR tools as per customers needs. The plugin is fully compatible with WordPress 3.8.1+, PHP 5.6+, WPML, WooCommerce 3+ and integrated with the WordPress add-ons such as WooCommerce, Mailster, BuddyPress, Facebook Pixel, Google Analytics, and many more. Regularly inform the latest WordPress privacy policy updates via email to all customers.
Additional Features:
Data Breach Notifications
Request Data Archive
Cookie Popup
Data Rectification
Well Documented
DMCA, Imprint, Media Credits and More
WP GDPR Plugin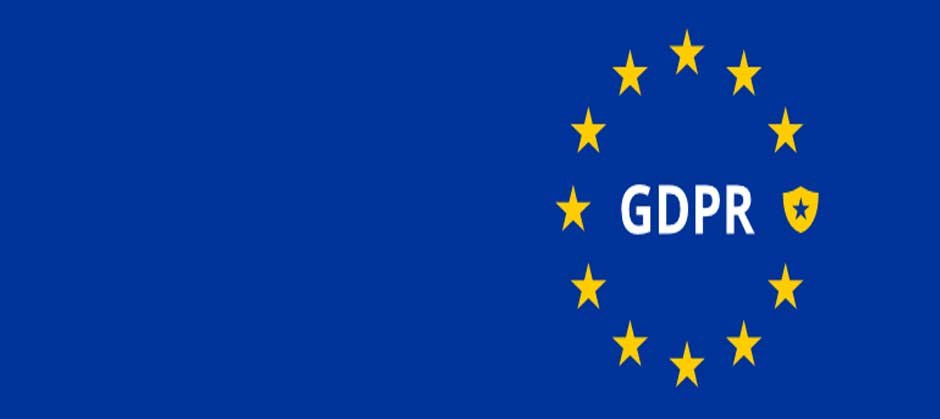 This open source plugin supports to make your website GDPR compliant by making personal data accessible to the owner of the data. It is supposed to help a Controller, data processor, and Data Protection Officer (DPO) with efforts to satisfy the obligations and rights enacted underneath the GDPR. This plugin integrates with the most well-known plugins through add-ons such as Gravity Forms, Contact Form DB 7, WooCommerce, Flamingo, and more.
Additional Features:
Consent management
Pseudonymization of user website data
Data breach notification logs and batch email notifications
Right to access data by admin dashboard with email
Telemetry Tracker for visualizing plugins and website data
The GDPR Framework WordPress Plugin
The GDPR Framework WordPress Plugin provides the GDPR compliance products such as ClassiDocs, Blockchain privacy, and enterprise cloud eDiscovery tools. According to the GDPR framework plugin, they generally give you general information and tools but is not meant to serve as a complete compliance package. This plugin currently integrated with Contact Form 7 & Contact Form Flamingo, Gravity Forms, Gravity Forms, and WPML.
Additional Features:
Track, manage and withdraw consent
Generate a GDPR-compatible Privacy Policy template
Enable DSAR on one page
Use a helpful installation wizard
Delete or anonymize personal data automatically
Delete Me WordPress Plugin
Delete me plugin allows the users to delete their own data without creating a request for it. Optionally you can use shortcodes anywhere to delete data
. Users can delete posts, links, and comments upon user confirmation. You can enable or disable the shortcode for Javascript and sending an email notification after users delete themselves.
Additional Features:
Multi site and Network Activation supported
Enable or disable JavaScript confirm for Shortcode
E-mail notification when a user deletes themselves.
Delete comments.
Wrapping Up
We hope this article helped you learn about WordPress and GDPR compliance. The best list of GDPR WordPress Compliance Plugins helped you by providing the required settings for your website.
Before ending we like to notice that we're not a lawyer and we are not sure that your website is 100% compliance or not. To make it clear you should set up an appointment with a lawyer experienced in this field or with a GDPR consultant.
If you likes our article visit our site for the latest updates about WordPress. You can also follow on our social media page to keep in touch on Facebook, Twitter.
Check out our other informative articles on WordPress: