Shopify vs WooCommerce vs Magento vs Bigcommerce – Which one is the best e-commerce platform?
Wondering Shopify vs WooCommerce vs Magento vs Bigcommerce – Which one is the best e-commerce platform? All of them are widely used e-commerce platform however there's some big difference in their work. To begin with, the quick overview of each of the e-commerce platform then after continue with details.
Overview of Shopify vs WooCommerce vs Magento vs Bigcommerce
| | | | | | | |
| --- | --- | --- | --- | --- | --- | --- |
| E-Commerce Platform | Price | Ease of Use | Active Users | In-Built Marketing | Rating | Visit Site |
| |  Start from $29 |  9/10 | 500,000+ | Yes | 9/10 | Shopify |
| | Free | 8/10 | 2,000,000+ | Yes | 8/10 | WooCommerce |
| | Free & Premium | 7/10 | 250,000+ | Yes | 7/10 | Magento |
| | Start from $29.95 + | 10/10 | 50,000+ | Yes | 10/10 | BigCommerce |
Here we go for the detail of each e-commerce platform and compare Shopify vs WooCommerce vs Magento vs Bigcommerce on the based of:
Key Features
Pros and Cons
Ease of Use
Price and Cost
Security and Support
SEO
ECommerce Design and Templates
Let's get started,
Shopify:
Key Features:
Unlimited Products
Web-based website builder
100+ professional themes
Free SSL Certificate
Automatic carrier shipping rates
Mobile Commerce Ready
Pros:
It is very easy to use and navigate for the beginners.
With the help of SEO and Social media option, it's getting easier for promotion.
Comes with the free hosting and SSL included.
Cons:
Limited default products attributes.
It is only available in the paid version and the URL structure is also not ideal for SEO.
Ease of Use:
It is a fully hosted platform and based on the online tool that has basic set up.
Shopify App provides easy accessibility.
It owns lots of visual cues, reliable typography and has a simple language.
Price & Cost:
Build an online store on Shopify just $29/month for the basic plan that provides unlimited file storage, Discount code creation, and much more.
Also, It includes hosting and a shared SSL certificate.
To access more advanced features, you need to pay a bit more per month.
Security & Support:
Shopify is secure and fast, to keep your site secure and fast loading it invests lots of time on infrastructure, security, and maintenance.
It provides 24/7 customer support services even it allows support on the phone, email and web chat.
SEO:
It is quite SEO-friendly that have features right out the box, but there's so much more you can do to climb up in the rankings.
Use SSL (Secure Sockets Layer) encryption, builds the secure links between a web server and a browser.
ECommerce Design & Templates:
The themes of Shopify comes with great visual quality that has unique variations, design and also has more than 100 different templates(both free and paid).
Customization is allowed that means you can change the theme easily and adjust the colors and styles.
Even better that you can edit within the theme editor of Shopify.
WooCommerce:
Key Features:
WordPress Content Integration
Reduce Page Loading
Modern and Clean Interface
Multiple Shipping Method
Comes with a REST API
Unlimited images and galleries
Mobile-friendly structure
Pros:
WooCommerce is amongst the most popular WordPress plugin. Simply download it and add the required products from the WordPress dashboard.
It is an open source software that exclaims free for editing and customization.
Supports multiple payment options – PayPal, major credit cards, bank transfers and Cash on delivery.
Cons:
Sometimes the WooCommerce WordPress updates create issues.
Customization can be costly.
Requires the knowledge to use effectively.
Hosting is not free you have to pay for it.
Ease of Use:
It is not a hosted platform that means you need to self install, manage, keep backups and look up for security.
Customization options make super easy to add any functionality on your website.
Due to the absence of built-in drag and drop design-builder, you need to use the WordPress page builder.
Price & Cost:
Although it is freely available to run WooCommerce store, you need a domain name, WordPress hosting and SSL Certificate.
Technically WooCommerce is cheaper but the additional extensions add up to your costs.
Security & Support:
WooCommerce provides SSL which gives the strong security along with dedicated patches to fix any vulnerabilities with various updates available.
They have only provided the forum support where you have to drop the problems and wait for the answers.
SEO:
WooCommerce integrates with WordPress so that there is a plus point in terms of SEO.
It has their own SEO functionalities that help to climb up on rankings.
ECommerce Design & Templates:
They provide the limitless customization that you can make the design on your own concept.
It comes with a ton of templates which makes your website design attractive.
Magento:
Key Features:
Free Shipping Functionality
Responsive Design with 700+ Themes
Unlimited Product Attributes
Various Payment Options
Inventory Management
Newsletter Subscription Management
Integration with Google Analytics
Pros:
It is a feature-rich eCommerce platform that manages multiple storefronts, multi-language and multi-currency support.
The community version is free and has large community users who developed many plugins and extension.
Allow to customize the themes as you want and to develop functionality.
Cons:
It is an intensely large system so the great Magento developers tough to find.
It is only hosted on dedicated servers due to a large system. Shared hosting creates a slow and annoying user experience.
Due to its flexible architecture, it consumes more time to set up and customization.
Ease of Use:
To work on with Magento, you should have great experience in web development.
It has a fast and simple self-hosting setup.
For advanced users, lots of things are offered to build a larger online store.
Price & Cost:
The community edition of Magento is free however it requires technical setup which adds costs.
The enterprise edition starts at $18,000 a year and also need to provide the hosting.
Security & Support:
In terms of support, they have their own big community where their own developers and user community provides the supports.
Magento is a secure platform where online transactions and user data is involved.
SEO:
Easily implement the on page strategies and edit the meta content.
Solve the issues by facilitating better optimization of the e-commerce site.
ECommerce Design & Templates:
The theme of Magento comes with customizable however sometimes expert developers are required.
It is a very classic style eCommerce store that provides robustness in the menu bars and navigation.
Bigcommerce: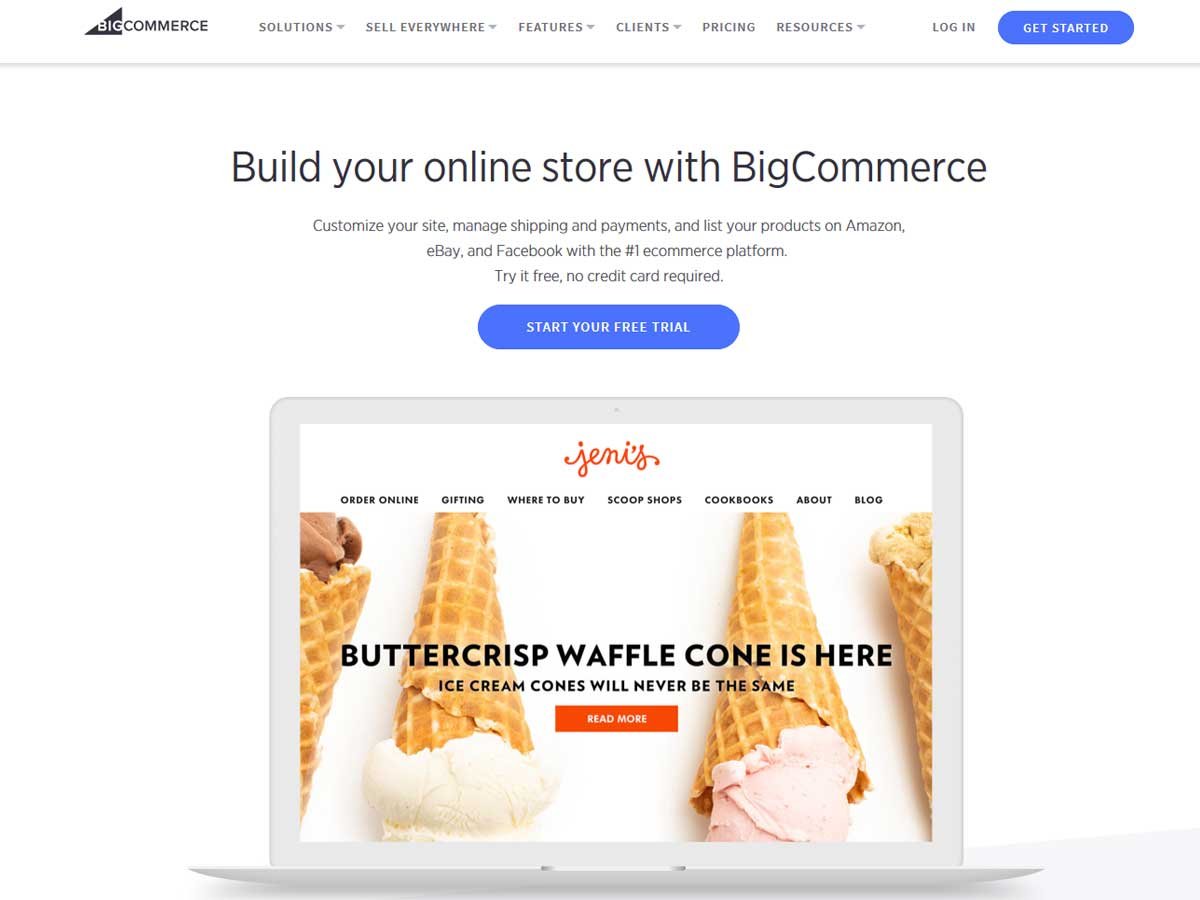 Key Features:
Bulk-import and export products
Inventory Management
Multi-Currency Support
Reporting & Analytics
Automatic image compression
Restful API
Marketing tools
Mobile-optimized store
Pros:
BigCommerce comes with an all-in-one solution which will be great for the business starters.
They offer all of their plan unlimited including bandwidth, products, and storage space.
You allow selling on multiple channels such as Facebook, Amazon, Pinterest, Google Shopping and much more.
Facility to edit the downloaded theme files offline.
Cons:
Some of their themes are quite expensive and provided less free themes.
It does not offer a free plan and sometimes it shows issues during customization.
Ease of Use:
BigCommerce is a user-friendly solution that comes with the easy setup to create a store website.
It handles your store, orders, adds products, and so on which makes the execution of the task easy and simple.
Easy to create discount and coupon code which will be able to set up for whole orders or a specific one.
Price & Cost:
It is a paid solution and comes with a three pricing plan and they are:
Standard – $29.95/month,
Plus– $79.95/month,
Pro – $249.95/month.
Security & Support:
They provided the 24/7 live agent support.
They have online video series that covers all the questions of the customers.
SEO:
It automatically optimized the Titles, URLs, sitemaps and more for your pages.
Provided the SEO box on each of the pages for adding information manually.
They offer more built-in SEO features including Facebook Open Graph, Canonical tag, 301 Redirects and much more.
ECommerce Design & Templates:
Both free and paid templates of BigCommerce includes the visually stunning designs that fit for major industries.
With the help of tools, you can create a fully customized and responsive website to streamline your online business.
Wrapping Up
To sum it all up, in my perspective all of them are the best solution depending on what you are looking for. Let us know, which one is the best e-commerce platform in your opinion on the comment box.
Hope this article helped you to choose the right platform and for more other informative article don't forgot to share and follow us on Twitter and Facebook.
Also, like to share some of the other informative articles here: