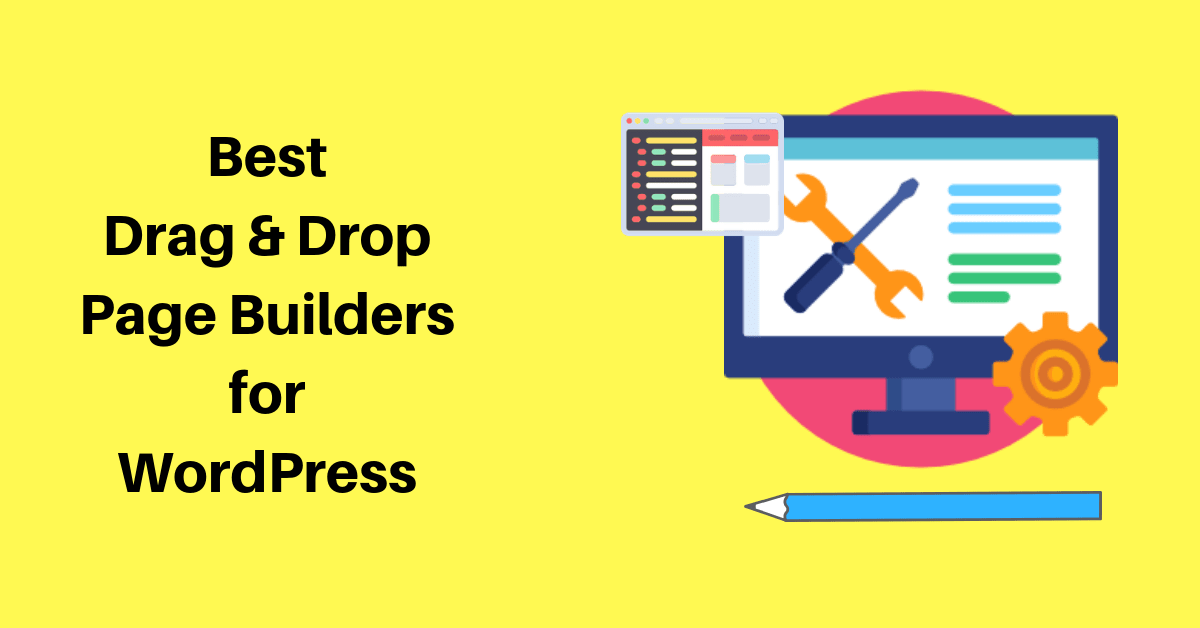 5 Best Drag & Drop Page Builders for WordPress
So, you want to build a robust, attractive, and visually delightful website. WordPress is the right choice, indeed. Moreover, considering how awesome some of the drag and drop page builders that WordPress comes with, the decision is easy enough for you. Whether you're a web-entrepreneur, an enthusiast, or a professional website developer/designer, you can trust some of the best drag and drop WordPress page builders to bring your ideas to life on your websites.
Choosing the ideal drag and drop page builder, however, could be tough, purely because there are too many options. We intend to help you out of this analysis paralysis; check out these 5 top picks, each loaded enough to serve you well. Compatibility, SEO, feature-richness, responsiveness – they have it all read on.
Over 500,000 WordPress websites have already been built using Beaver Builder, one of the most sophisticated drag and drop HTML page builder for WordPress. Begin by choosing one of the dozens of responsive website templates it offers, customize the look and feel by dragging and dropping elements, and save your designs as templates to be able to reuse them whenever you want. Build column based layouts, positioning content elements precisely without getting into coding, switch themes without losing your content, and experiment easily with live front-end previews – with Beaver Builder.
Beaver Builder supports the WPML translation plugin, which makes it translation-ready. Developers can hand off websites to clients in editor mode, preventing accidental changes/damages to the design. WooCommerce support adds e-commerce capability to your Beaver Builder powered WordPress website. Even if you want to discontinue using the plugin sometime in the future, all your content will be ported to the standard WordPress editor.
Beaver Builder is highly empowering for professionals alike because of its multi-site capabilities (network-wide control panel), reusability of design modules, and readiness for modern SEO (schema markup, code compression, etc.). Even the Standard package lets you build unlimited websites, and comes with comprehensive support for 1 year. The Pro and Agency packages are more suited for professionals and design agency businesses.
Putting ease ahead of everything, Themify ends your search for the most convenient drag and drop webpage design experience for WordPress. More than 40 professionally designed themes await you import the one you like, replace pre-existing texts and images with your content, drag and drop content elements around to get the perfect look, and you're done. It's possible to build a landing page within a few minutes using this WordPress drag and drop framework.
The Themify backend lets you drag and drop modules easily. The backend shows you a grid, with indications on where a module can be dropped. Once done, you can click a button to preview the look at the front end. Options such as undo/redo, copy/paste, etc. add speed to your operations with Themify. It's easy enough to import and export modules and rows from one computer to another. Also, you can prototype and save existing modules and rows for reuse.
Themify's animations deserve a special mention; with more than 60 animation effects, it offers you all the artillery to bring your website design to life. Colors, backgrounds, borders, fonts, spacing, overall theme colors – everything can be customized deeply with Themify's styling options. Video background, parallax scrolling, slider background, Google Fonts, etc. add more aplomb to Themify. Your Themify based website is fully responsive, SEO ready, translate-able, modularized for peak performance. And finally, there are add-ons that you can explore to enhance your Themify website all the more.
Pitched by the founders as the world's best professional builder, Elementor walks the talk and offers you a fully integrated and pure drag and drop builder. The visual impressions created by the professionally designed Elementor templates are bound to stick with your viewers. The builder lets you be expressive with your content, offering layout options such as grids, masonry style, blog, and lists.
The drag and drop WordPress page builder offered by Elementor is intuitive, super-fast, and user-friendly. It lets you build sophisticated and richly designed websites without coding, and generates compact and optimized code in the backend. The range of widgets is expansive – buttons, forms, headlines, and a lot more. Also, inline editing lets you add your content as you design your page. Elementor integrated so well with WordPress that you can use your WordPress Customizer and Widgets Menu to add any Elementor template to footers, sidebars, or any other content area.
Elementor supports 23 languages as of today, and the list is growing. Get the mobile look of your website right by switching to 'mobile view' and tweaking elements as you desire. Revision history, Autosave, undo/redo, hotkeys, customer color picking, copy style, draft mode, Google Fonts, Typekit integration – all these make Elementor user-friendly, powerful, and fully loaded for starters as well as professional website designers.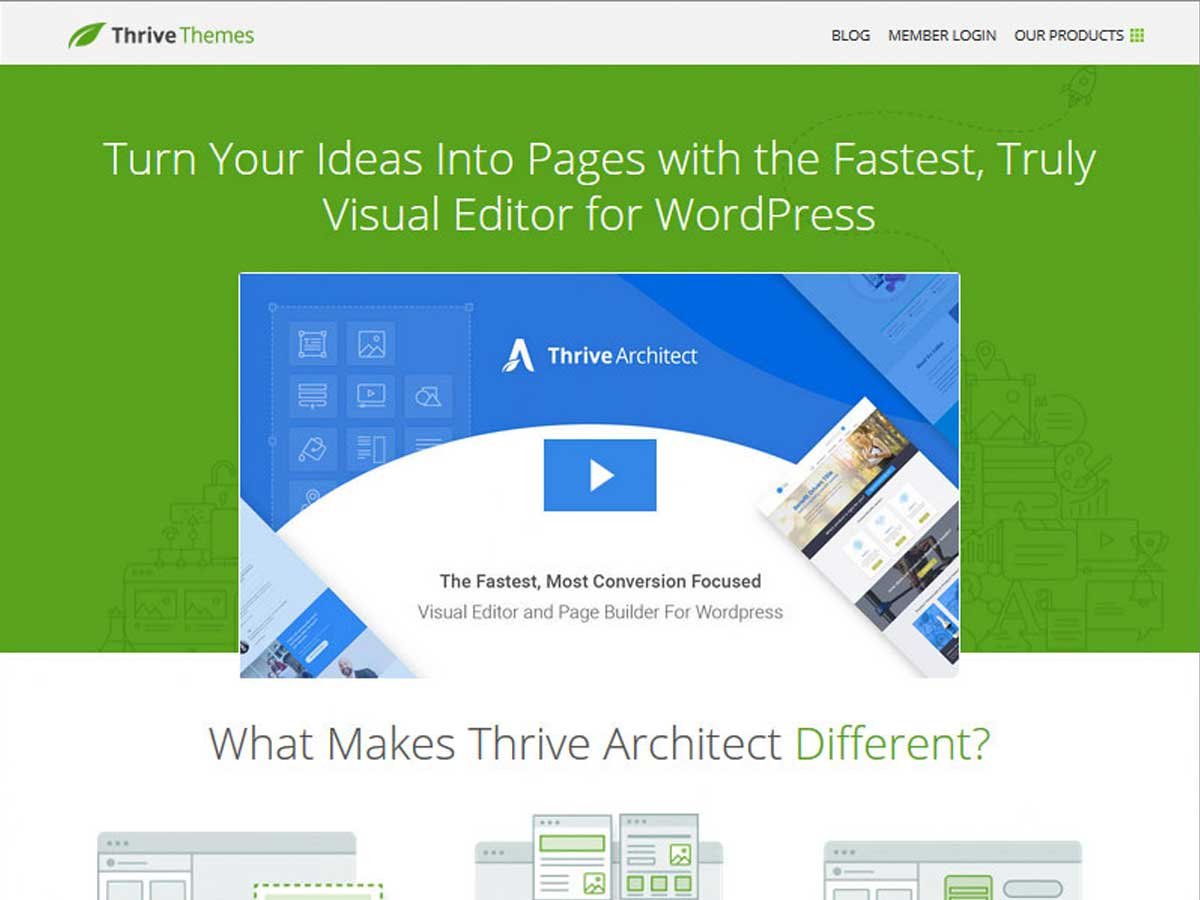 Here's a builder quite similar to Elementor, and evolution on what was previously the Thrive Content Builder. The Thrive Architect content editor made to support super-quick editing. Just click on the element you need to edit, and just drag and drop it where you want it to appear on the canvas.
With 271 conversions focused and ready to go landing page templates on offer, Thrive Architect is all you need for a jump start. The builder focuses heavily on the idea of conversions, as it's clear from the endless customizations it offers around content modules such as buttons, testimonials, lead generation forms, countdown timers, etc.Thrive Architect lets you build complex column layouts in a jiffy, makes it easy to set backgrounds and overlay content on it without compromising on readability, and offers 700+ custom fonts to help you get the typography spot on. Also, it offers you everything you need (live previews for different screen sizes, screen size based content setup, etc.) to achieve full responsiveness. Don't look anywhere else if you're short on time, and want a WordPress website that converts visitors into subscribers or customers.
Called the 'ultimate page builder', Divi Builder gets most boxes ticked when it comes to offering easy, code free, and power packed webpage building for WordPress. The builder supports all kinds of themes, which means you can create your layouts within content areas of all sizes. Think of Divi Builder as something that takes the best of Divi Theme and packages it in the form of a plugin that works with any theme.
Divi Builder made to support all possible layout options on your mind. With 3 section types and 20-row types, you can realize all possible layouts. It offers you as many as 46 content modules which can be arranged in any number of ways to create any kind of websites – all with basic drag and drop movements. These content modules include – audio player, email opt-in, post slider, images, login, comments, text, sidebar, video, search, post navigation, full-width menu, pricing table, e-shop, and a lot more.
Divi Builder also lets you add custom CSS If you need to. You can save pre-made layouts to your Divi Builder library and re-use them as needed. The library data can be easily imported and exported from and to any site. More than 500,000 customers are already using Divi Builder; that's ample testimony to its success and popularity.
Which Of These Website Builders To Go For?
The 5-page builders make your WordPress website super easy to build, and super attractive for your viewers. Our pick, for users looking for the most power-packed webpage building experience, is Beaver Builder.