Best Free News WordPress Themes For Download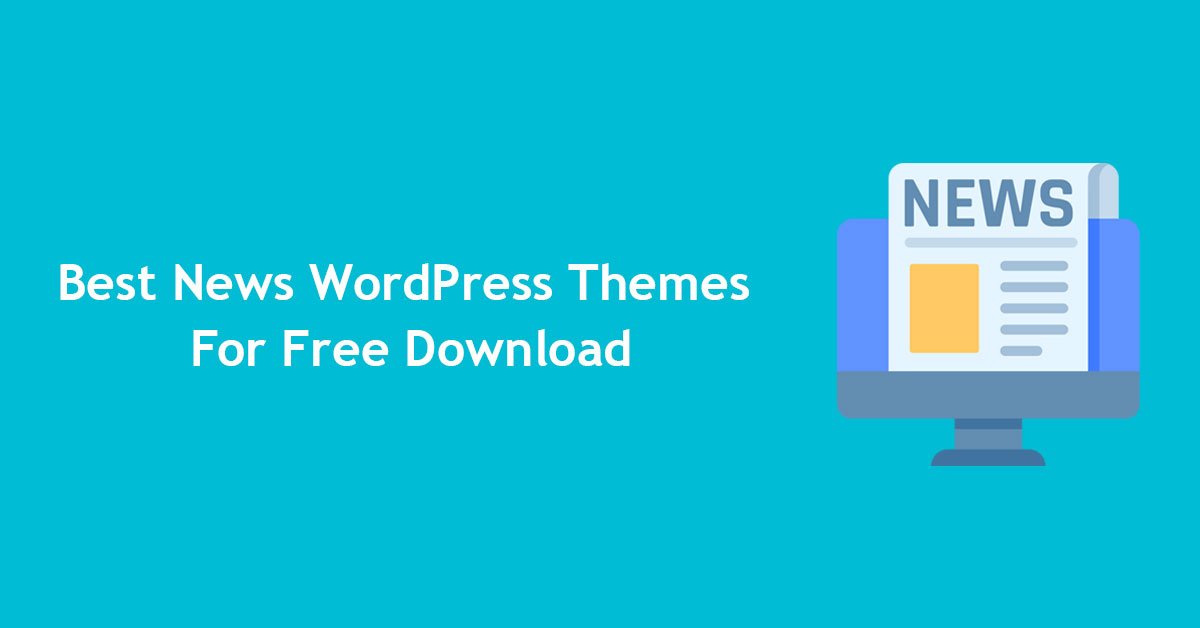 In today's fast-paced world, staying informed is more critical than ever. People crave access to the latest news and updates, and with the digital revolution, the internet has become the primary source of information. As news publishers, bloggers, and journalists, we understand the importance of a captivating and functional website that delivers news to our readers effectively. That's why we are excited to introduce our list of free News WordPress themes—an all-inclusive solution designed to empower your site and engage your audience like never before.
Things to consider before choosing the best free News WordPress themes
Aesthetics and User Experience:
The first impression matters, and that's why every news WordPress free theme should boast a clean and modern design aimed at offering an immersive reading experience. With a focus on content presentation, this theme places your news articles front and center, ensuring that visitors can easily find and engage with your valuable information. Moreover, The user-friendly layout ensures smooth navigation, making it convenient for readers to explore various sections of your site effortlessly.
Responsive and Mobile-Friendly:
With mobile devices becoming the preferred method for accessing news, free WordPress template is fully responsive and optimized for mobile devices. Whether your readers visit your website on a smartphone, tablet, or desktop computer, they will experience seamless and consistent browsing, elevating their engagement and ensuring they keep coming back for more.
Customization Options:
We understand that every news website is unique and deserves a distinct identity. Free WordPress theme offers a range of customization options to make your site reflect your brand's personality. From choosing color schemes that matches with your branding to selecting custom fonts that enhance readability, you have the freedom to personalize your site and create a lasting impact on your audience.
Breaking News Ticker:
Timeliness is paramount in the world of news. To highlight the latest and most critical updates, our free News WordPress theme comes equipped with a dynamic Breaking News ticker. This eye-catching feature scrolls across the top of your website, instantly grabbing your readers' attention and directing them to the most recent stories.
Featured Content and Categories:
Showcasing your best content is essential for captivating your audience. With the Featured Content section, you can properly highlight your top stories. Additionally, the theme offers a easy category system, allowing you to organize your news articles smoothly and helping readers find the topics that interest them the most.
Social Media Integration:
In today's social media-driven world, sharing news stories is a common practice. Our News WordPress theme is integrated with popular social media platforms, making it easy for readers to share your articles with their networks. This feature not only boosts engagement but also expands your website's reach to new audiences.
Search Engine Optimization (SEO):
As a news publisher, attracting organic traffic is vital for your website's success. Our News WordPress theme is optimized for search engines, ensuring your articles are easily discoverable by search engines and rank higher in search results because this helps drive more traffic to your site and enhances your online visibility.
List of Best Free News WordPress Themes to Download: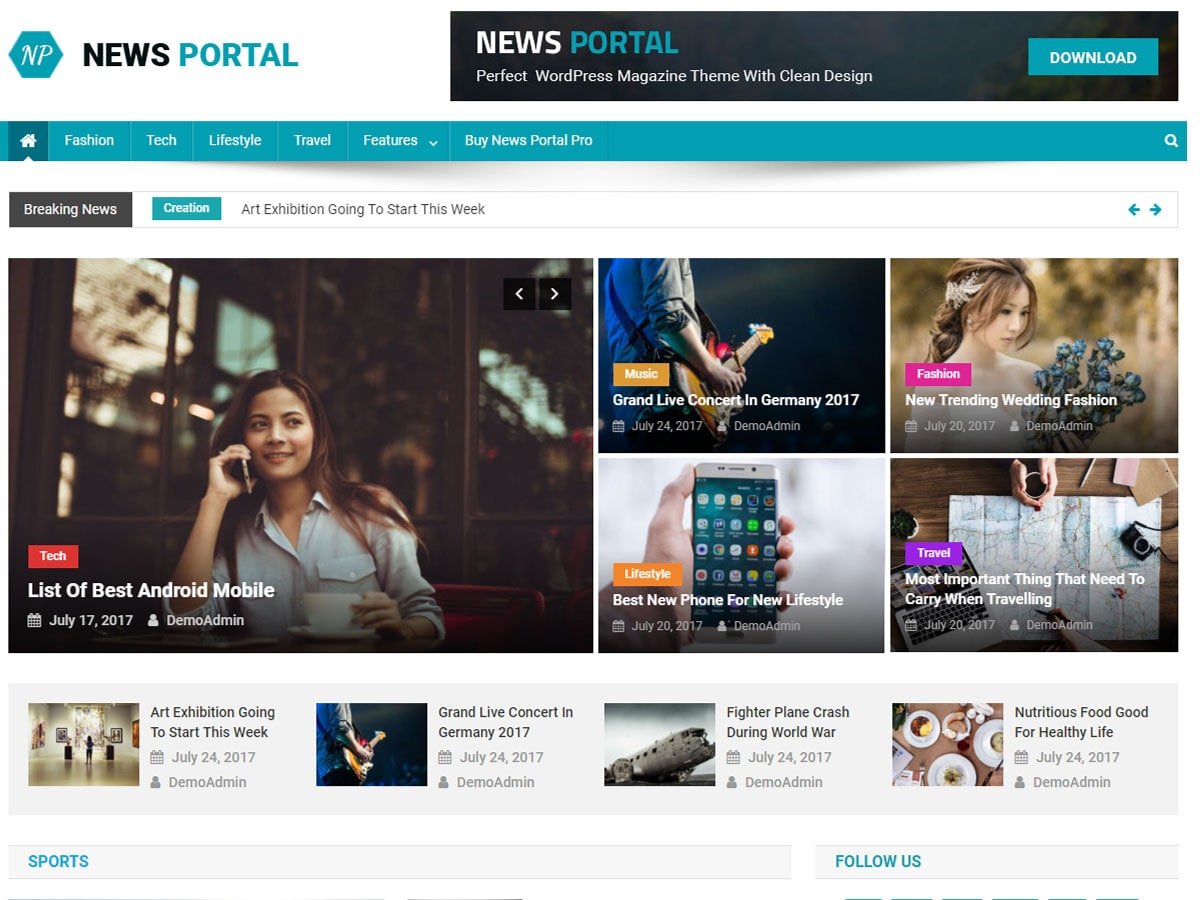 The News Portal is a free magazine-based News WordPress theme that boasts over 10000+ active installations. It is ideally suited for online publications, personal blogs, and newspapers. This theme provides various valuable attributes to cater to your specific needs, including customizable widgets that empower you to add distinct features to your website. Moreover, it features a responsive design, ensuring smooth functionality on various devices, and is retina-ready, allowing you to incorporate high-resolution graphics and images with greater pixel density. Additionally, the theme offers substantial support to meet your requirements effectively.
Key Features of News Portal Theme:
Responsive design
5+ widgets with multiple layouts
Multiple category color scheme
Elementor & Gutenberg Compatible
Plugin compatibility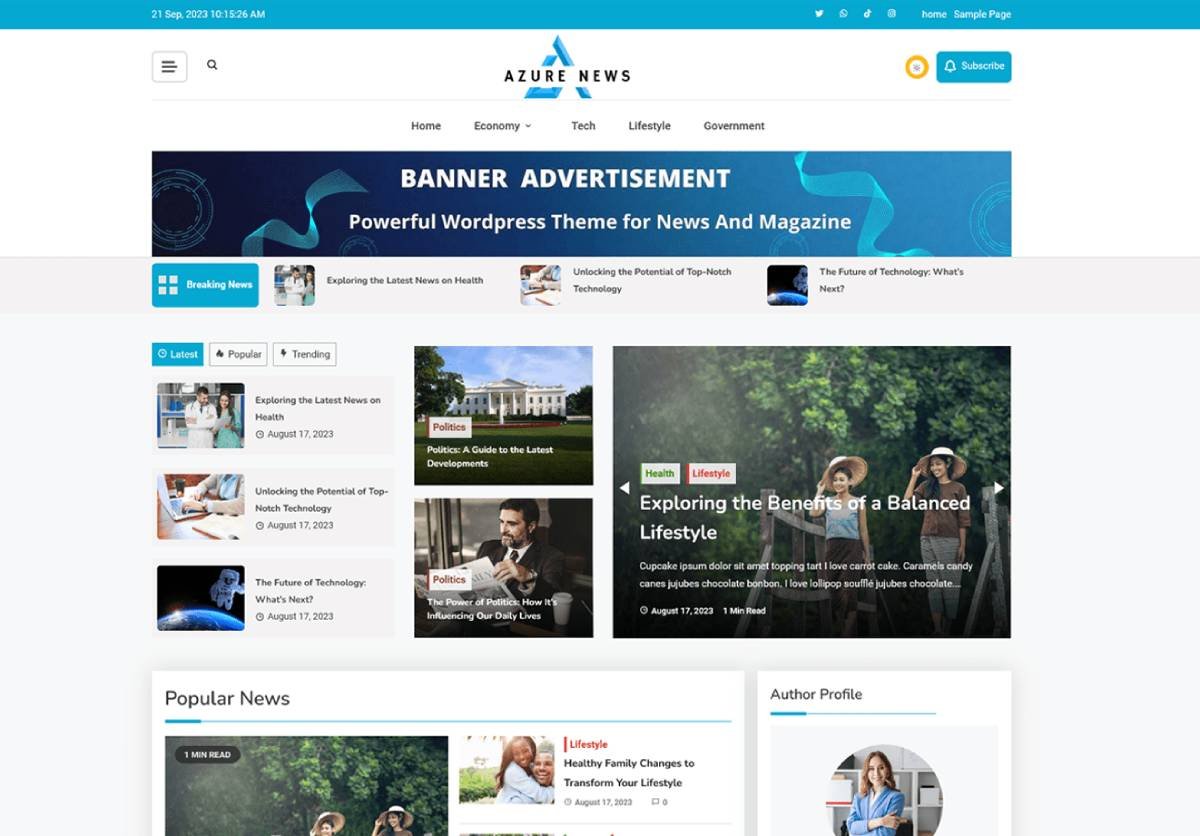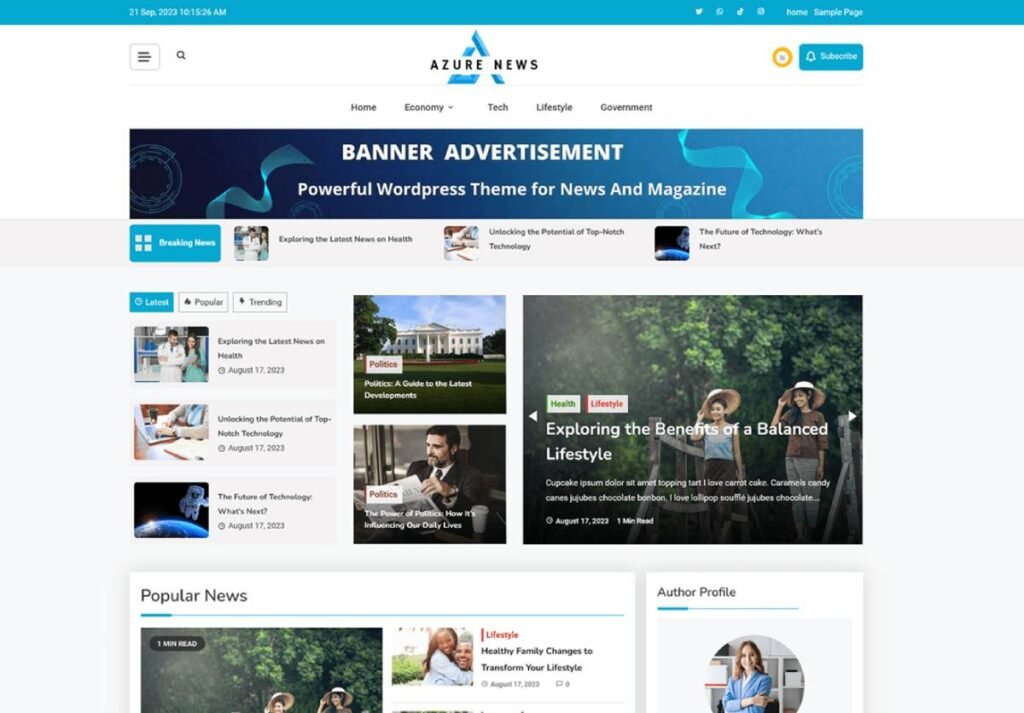 Introducing Azure News, one of the finest, best and free News WordPress theme for 2023 by Code Vibrant. What made us choose this theme for second position is the fact that this theme is simple, easy to use, highly SEO optimized and up-to-date. Up to date for the fact because this theme was just launched and it has touched every factors, a news theme should include. This theme has 8 different widgets placement areas so that you can add extra functionality to your website. It is definitely one of the best news WordPress themes you can get for free at this time of the year. Furthermore, Azure news has more features for their pro-version so that you can customize your site as much you want.
Key features of Azure News Theme
Eight different Widget Areas
Highly SEO optimized
Multiple typography options
Highly customizable
Clean and Modern Design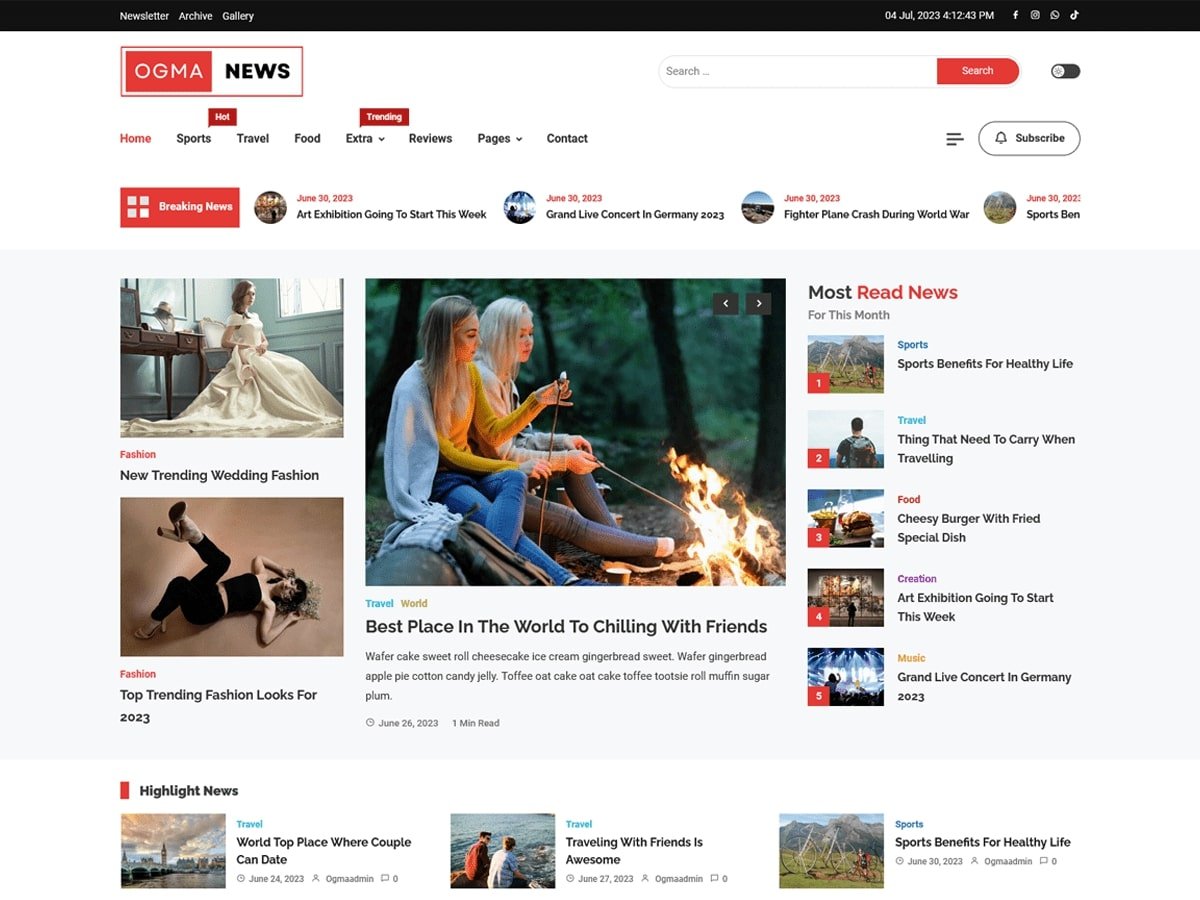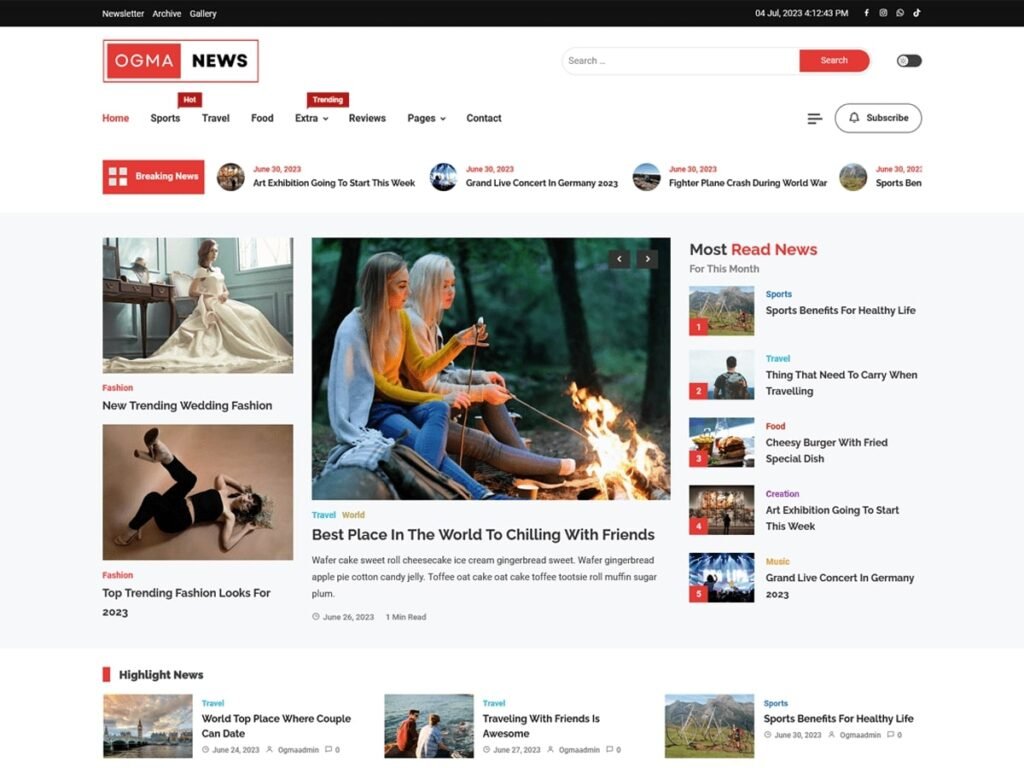 Ogma News is a free template for WordPress with a handy one-click demo import feature. This highly versatile and user-friendly theme is specially designed to serve news sites, online magazines and blogs with rich-content. Furthermore, It offers advanced features and customization options to help you create a professional and attractive online publication. What's more, you can easily customize your header, front page blocks, individual posts, related posts, and archived posts with Google fonts and a variety of text and category color options.
Key Features of the Ogma News Theme:
Multiple news layouts section
multiple header layout options
Typography option
Stylish Breaking News Option
Multiple archive and single post layouts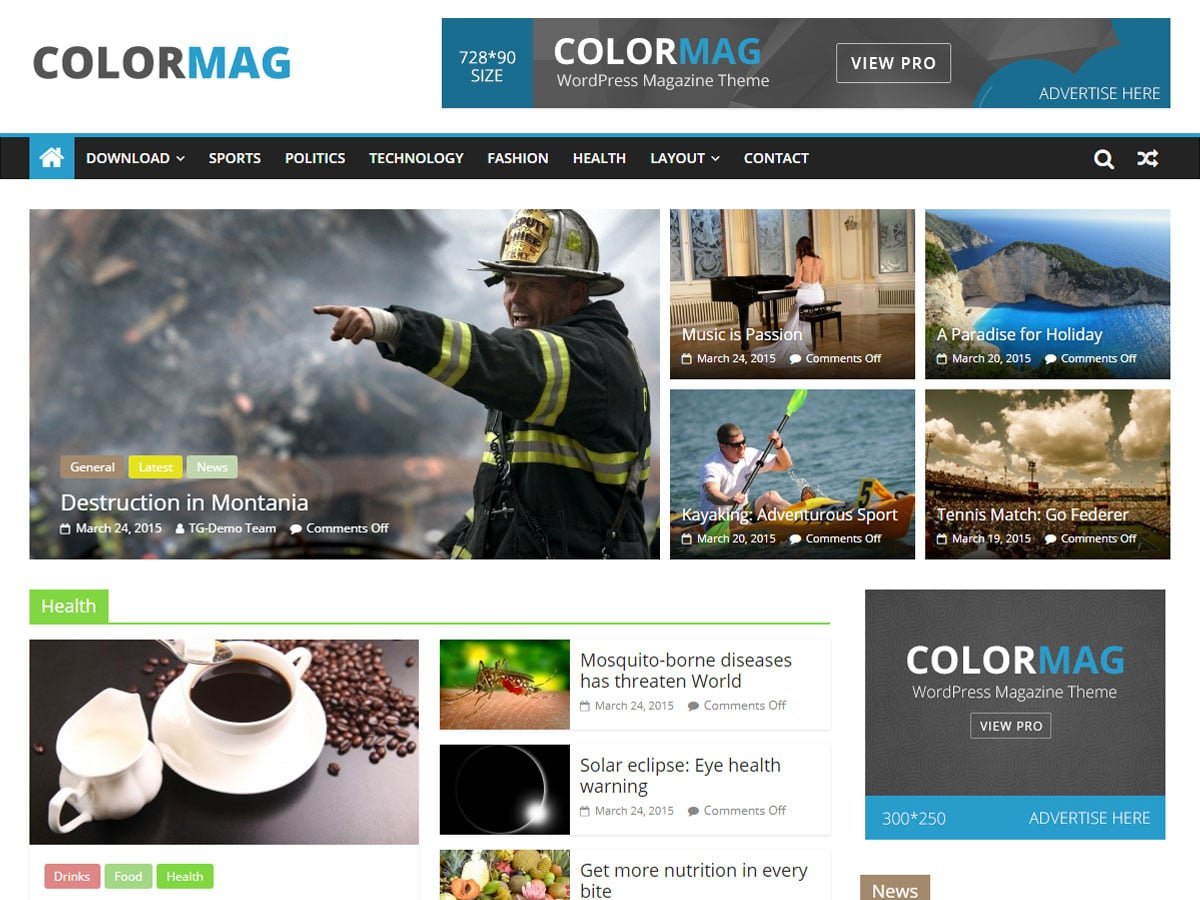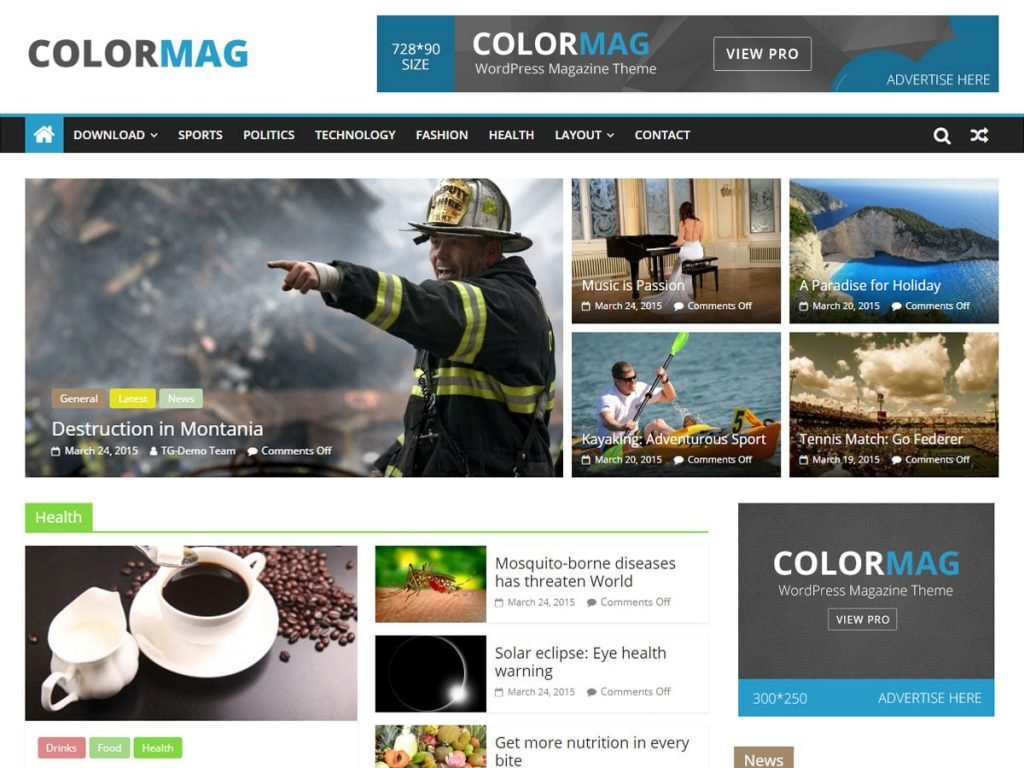 ColorMag is a one of the best news WordPress themes designed for news websites and online magazines. With ColorMag, you have the ability to fashion a polished and modern website. Impressively, the theme boasts a massive user base, with over 80,000 active websites currently utilizing its potential.
ColorMag is equipped with dependable features, including Search Engine Optimization to enhance your website's visibility in search results, a responsive design for smooth usage across different devices, and social icons that enable easy linking to your various social media profiles. Moreover, it ensures compatibility across multiple browsers, including Google Chrome and Mozilla Firefox.
Finally, an advantage of ColorMag is the availability of free support, enabling you to seek assistance for any theme-related issues you may come across.
Key Features of the Colormag Theme:
Fully Compatible with Elementor
25+ Starter Demos for Quick Start
Multiple Widget Areas
Live Customizer Option
Newsup is an efficient, operational, and tidy Premium Responsive News Magazine free WordPress template. The theme is designed with complete widget support, giving users the convenience of maintaining content through user-friendly widgets.
Lastly, Newsup is well-suited for dynamic news platforms, newspapers, magazines, blogs, online and gaming magazines, news portals, personal blogs, and any creative websites seeking a polished appearance.
Key Features of the Newsup Theme:
Multiple Homepage Templates
Banner Featured Posts
Powered by Elementor
Responsive layout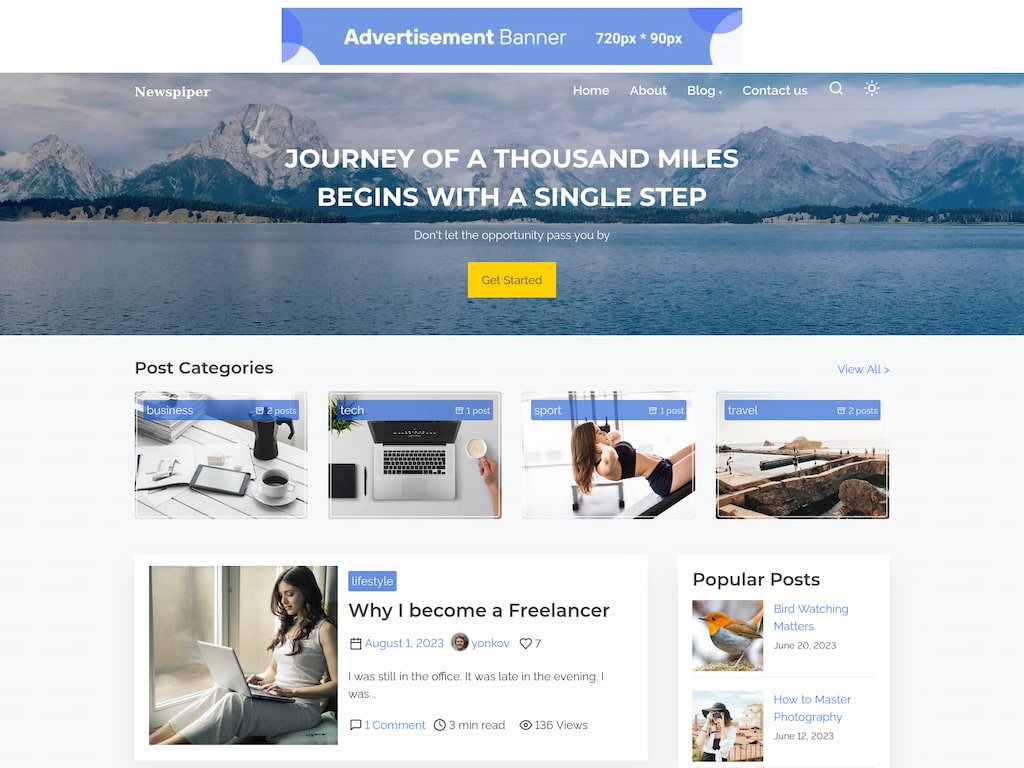 Newspiper is a modern WordPress theme for news, blogs, and magazines. This theme is specially made for bloggers, content creators, and independent publishers. Newspiper is a highly customizable theme that is easy to adapt to any type of design. What's more that, It is one of the most SEO-friendly themes you can find on WordPress and uses schema.org markup to help your website rank higher in the Google search results. Newspiper provides effortless integration with WordPress plugins such as Paid Memberships Pro, Mailchimp for WordPress, and WooCommerce, which will help you gather subscribers and put your content behind a paywall.
Key Features of Newspiper Themes:
Highly Compatible for cross-browsing experiences.
Responsive Design
SEO-friendly and uses schema.org markup for increment in Google rankings
Effortless Integration with multiple WordPress plugins.
Attractive and highly functioning block patterns to get started.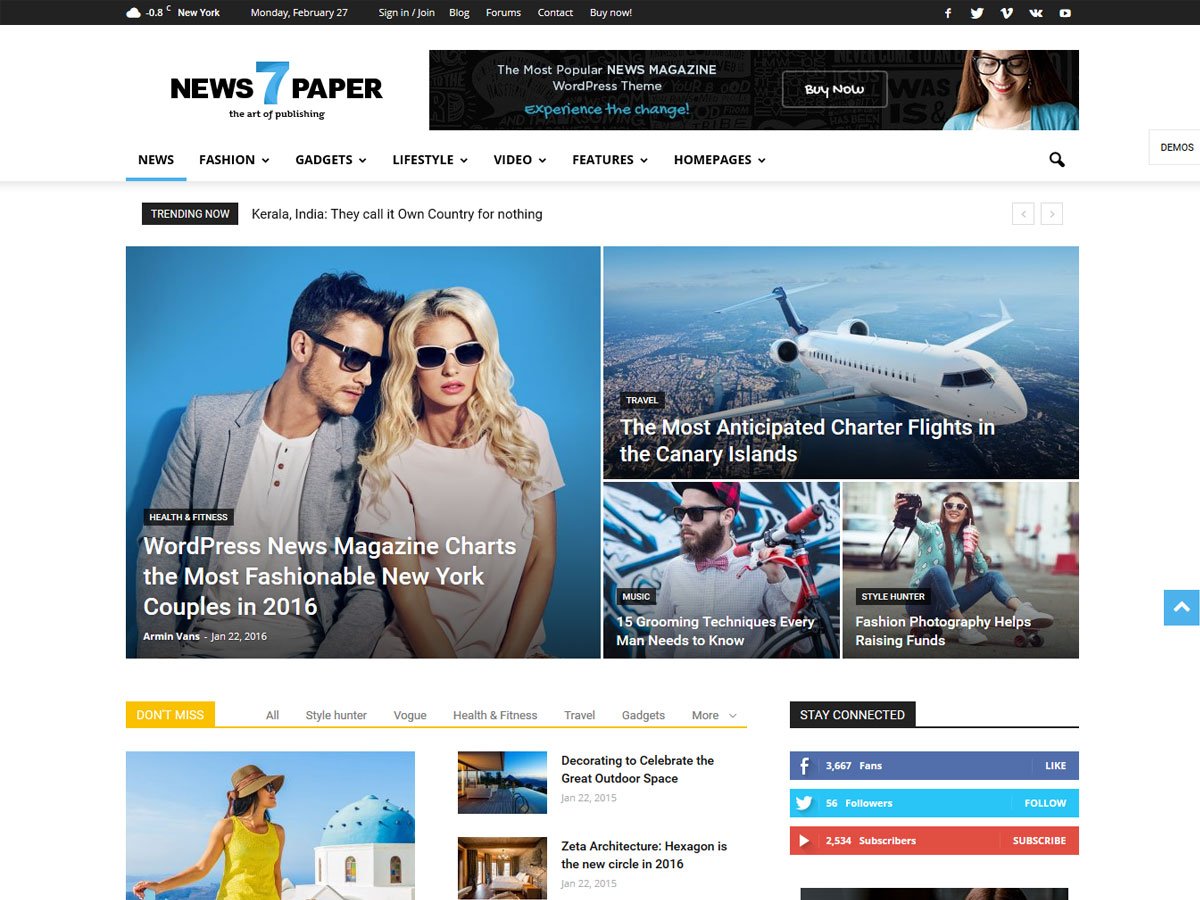 NewsPaper is one of the best news WordPress themes for WordPress. This theme contains some of the best features like: Front-end editing, drag-and-drop customization, lightweight pages, and easy interface.
In addition to that, you don't have to be top-notch expert in customization, its quite easy but you should have some knowledge though. Finally, if you are planning to make a news-based website, you should definitely check this theme.
Key Features of News Paper Theme
Powerful, versatile and yet lightweight theme
Over 100 pre-made templates
Easy and unlimited customization options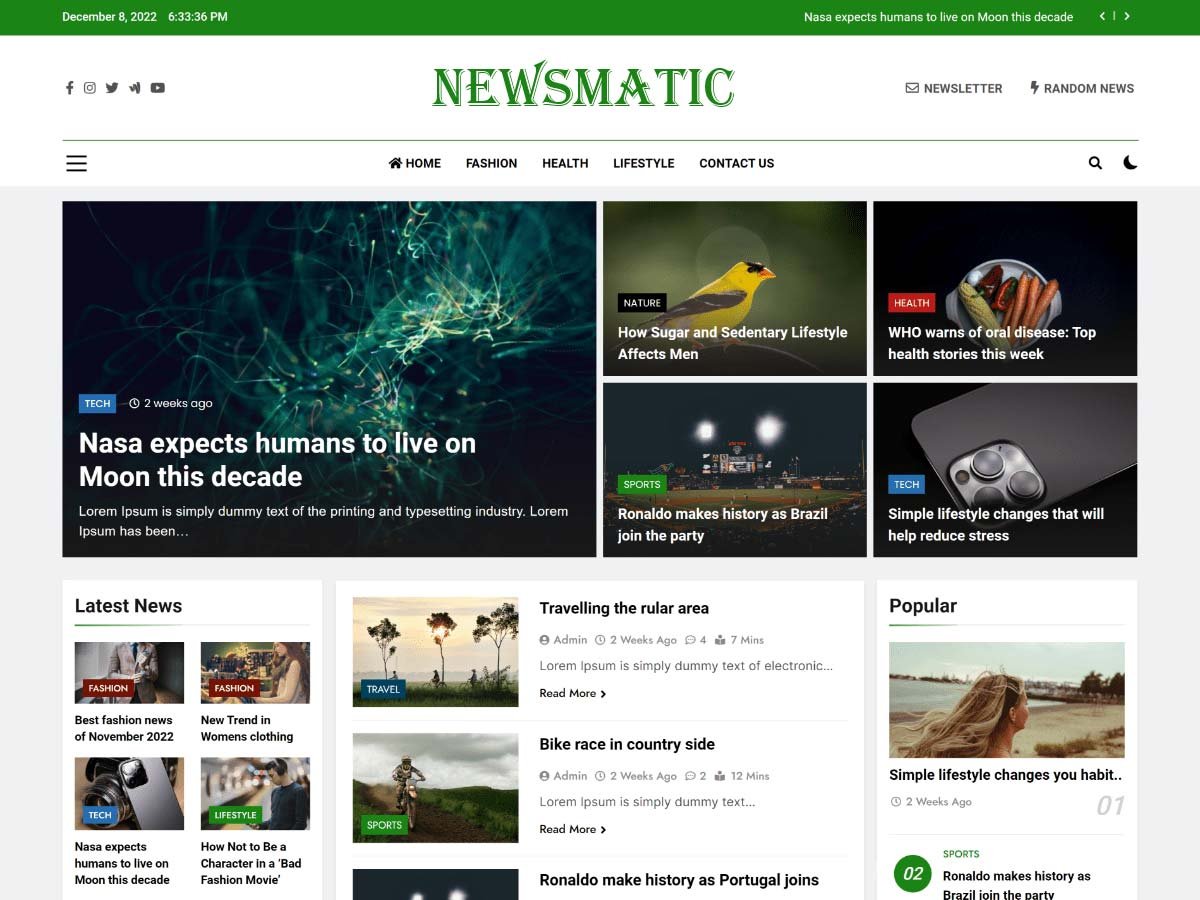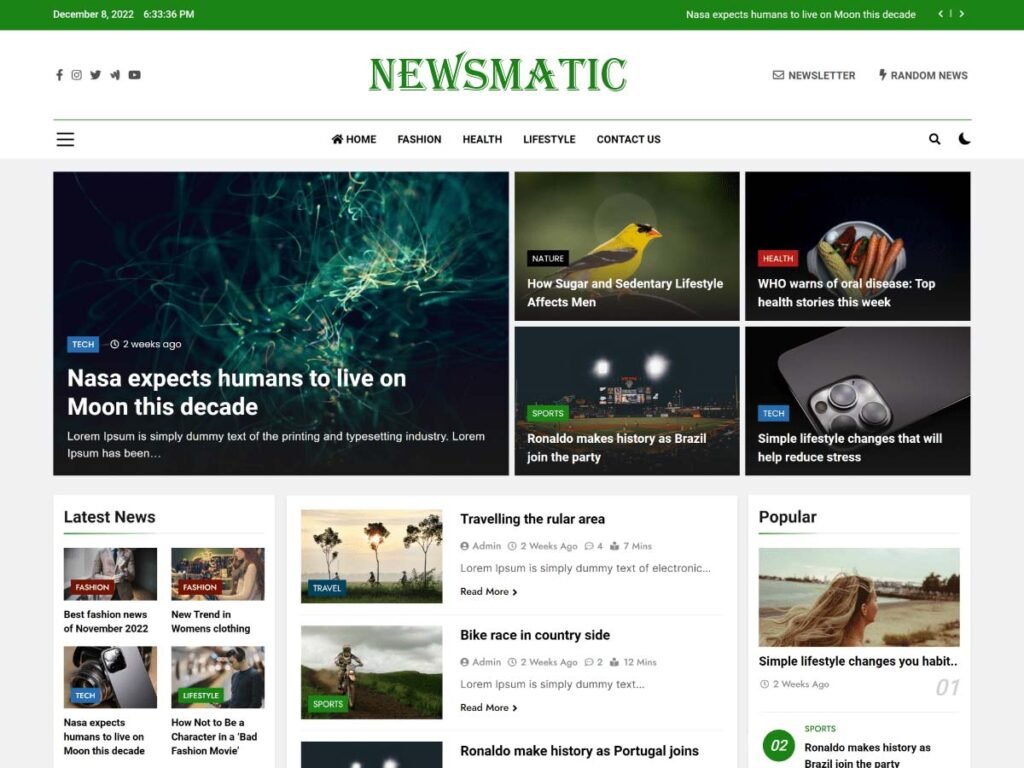 Newsmatic offers a comprehensive solution for your news wordpress website. It is a swift, feature-rich, and versatile free news theme, entirely customizable through its customizer-based interface. In addition, the theme supports multilingual functionality, and it seamlessly integrates with Gutenberg and Elementor, making content creation a breeze. Furthermore, it effortlessly cooperates with newsletter/form plugins, enhancing user engagement.
Furthermore, with its schema readiness, Newsmatic gains favor with search engines, assisting in better search rankings. Additionally, it prioritizes user privacy, complying with GDPR regulations by refraining from collecting any restricted personal data. This ensures peace of mind for website owners.
Key Features of Newsmatic Theme:
One click demo import
8+ Starter Demos for Quick Start
Multiple Color Picker
Typography Option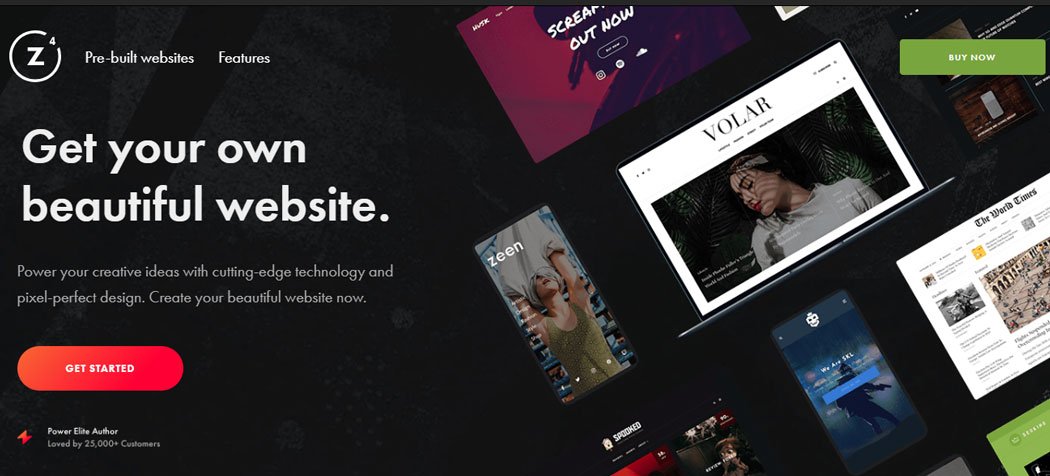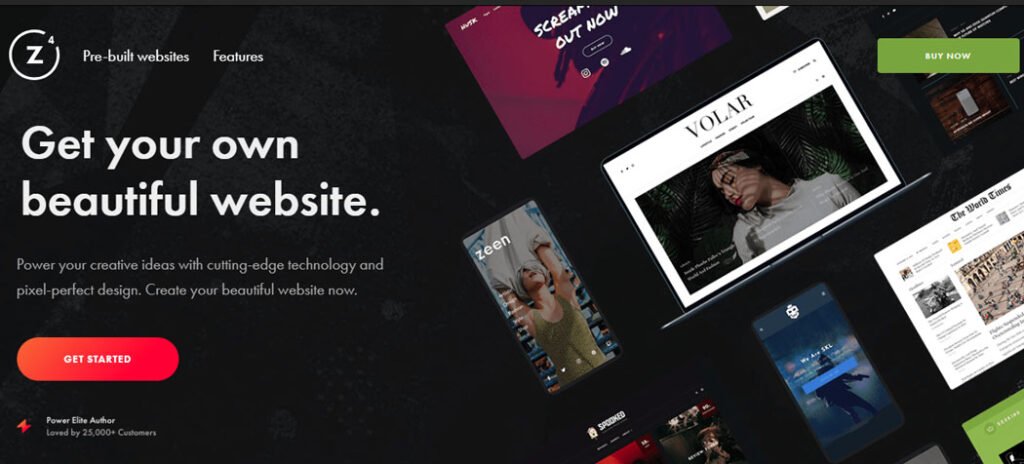 Zeen is one of the best free news WordPress themes. Because of its modernistic design and elegant features, Zeen is one of the mostly used News WordPress theme in the market. Furthermore, you can quickly use their pre-built templates for easy and quick website building.
Another most interesting feature of this theme is that it is highly responsive, stylish and fully optimized for the performance. So, you can easily customize your website with it and still get the better performance from your website.
Key features of Zeen Theme:
Easy single click installations
Optimized for responsiveness and better performance
Modern-looking and Stylish designs
Beginner friendly
Well-document
Conclusion
Whether you're running a local news site, a niche blog, or a global news platform, this theme will empower you to provide timely and valuable information to your readers while creating an enjoyable browsing experience.
Finally, to elevate your news website, use one of these free WordPress themes and you will have it easier in regards of customization, SEO and every other necessary factors. To add more, all of these themes in our list are one of a kind because every one of them has their own unique features and functionality. Also, they are easy to learn and utilize. Make sure to check out each of them.