Best WordPress Chatbot Plugins for your website
Chatbots are automated systems that can help your customers with common queries and problems, saving you time and providing a personalized touch. In the context of WordPress, you can integrate your website with plugins. The best WordPress Chatbot plugins can boost your website's click-through rate and sales through the roof. With many benefits, including increasing leads and sales, chatbots should be a key consideration for any business. So, what is the stats-driven fact that every business in every sector is formulating a valid plan to integrate Chatbots into their websites? Let's look at it.
If you want to learn more about WordPress, check out WP All Resources. This website provides you with efficient information regarding everything from the fundamentals to the advanced tutorials for your WordPress website that you need to get started.
Why should you use WordPress Chatbot Plugins for your website?
Chatbot plugins are now the norm for the majority of WordPress websites. Especially for e-commerce websites that need to provide product descriptions or other related customer queries. According to DemandSage, 74% of customers prefer chatbots over a human corporate agent.
Another verified source, Chatbot Magazine, says your business revenue can grow up to 15% more if you use chatbots in WordPress. Many reports even claim that E-commerce stores are thriving by using Chatbots on their websites. If you are still not convinced, just take note that not using the chatbot plugin is probably another bad decision you are going to make.
Yes, now we know that people prefer chatbots, and businesses are also thriving due to them. But what are the major points of chatbots that people love so much?
Major advantages of using the best WordPress Chatbot for your websites!
WordPress chatbots, or any other type of chatbot, are popular due to the various advantages they give your business.
Quick and Multilingual Response: Most chatbot systems integrate AI, ensuring quick responses and diverse language conversations for customer satisfaction and a seamless service experience in multiple languages.
Higher Sales: Chatbots are guaranteed to increase sales for your WordPress website. Their quick and personalized response is another thing customers prefer so much. Chatbots are available 24/7, so there will be no distraction with customer service even if you are around the globe.
Lead Generation: Another important thing for any business is their customer's information, or, in simple terms, Lead Generation. Chatbot keeps a record of every customer's data with whom they've interacted. This is highly beneficial for marketing purposes.
Automation: Tasks in business can often be repetitive and highly tedious. This also increases the scope for a human to make an error. That's where Chatbot comes in. Chatbot's major task is to conduct highly tedious business operations like Frequently Asked questions (FAQs). Due to the usage of Chatbots on websites, 87% of FAQs are now answered by Chatbots.
From these points, one thing is clear: using the best chatbots for a website is beneficial for a business from both a customer satisfaction and economic point of view. Since we are talking about integrating chatbot plugins into WordPress websites, let's talk about some of the best WordPress chatbot plugins for you:
So, What are the Best WordPress Chatbot Plugins?
Chatbot with IBM Watson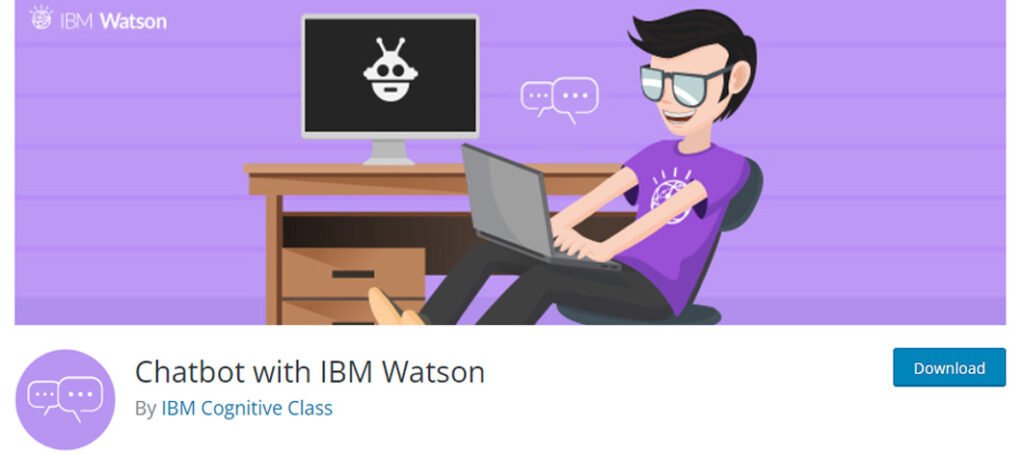 Formerly known as Watson Conversation on the IBM Cloud, WordPress's Chatbot with IBM Watson is one of the most trusted chatbot plugins you can find for WordPress websites. This chatbot plugin allows users to create chatbots using natural language processing technology, enabling your bot to learn and improve over time, which can help you personalize more of your user's experiences.
---
Tidio
By: Tidio Ltd.
It is not an exaggeration to say that Tidio is the most popular WordPress Chatbot Plugin. It offers a range of features to help you create a customized chatbot experience for your website visitors or customers. This chatbot will allow you to integrate chatbots with live chat, email marketing automation, and email campaigns. With the Tidio Chatbot Plugin, you have the ability to choose from a variety of templates. You can also customize your Tidio Chatbot to match your brand and access analytics to help you track and analyze your performance.
---
AI Engine is another hyped-up WordPress chatbot Plugin. With integrated AI in its chatbot like ChatGPT (versions: 3, 3 '16K', 4, 4 '32K'), DaVinci, Babbage, etc., this is your go-to talkbot for your WordPress website. You can also add image-generative AI to your chatbot plugin to create templates for everything that you do.
AI Engine is fully packed with AI Chatbot features. This chatbot plugin even gives you suggestions while editing your blog in the WordPress editor to help you think about your content and write better.
---
HubSpot
By: HubSpot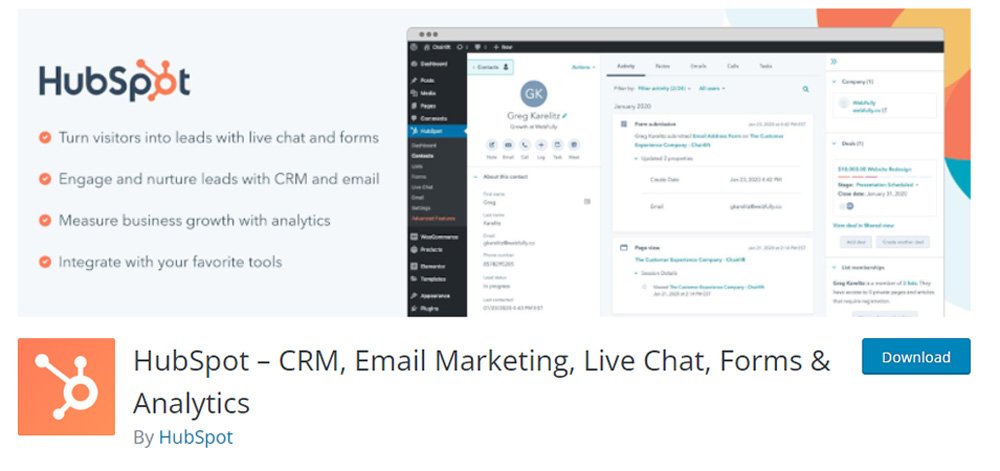 HubSpot's plugin has everything in one package. Including chatbots for WordPress, HubSpot also offers Email marketing and customer relationship management (CRM) tools. It also offers analysis of your business's health and relatively easy-to-understand analytics dashboards for better efficiency in your business.
With HubSpot's real-time chatbot, you can engage your customers and gather their queries for better customer relationship management.
---
Chatbot for WordPress
By: Collect.Chat
Nowadays, many WordPress websites prefer this plugin. Collect.chat's Chatbot for WordPress allows you to create conversational forms, surveys, and quizzes that can help your website gather valuable customer feedback and insights. One of the easiest chatbot plugins to setup, its intuitive builder allows you to create a variety of customized chatbots without any coding knowledge. Furthermore, this plugin has range of integrations available, including Zapier, Google Sheets and Slack
---
AI ChatBot
By: Quantum Cloud
As the name suggests, AI Chatbot by Quantum Cloud is integrated with Artificial Intelligence (AI) technology. This chatbot plugin has also integrated itself with a famed name in the AI market, ChatGPT, or another versatile DialogFlow bot. The best thing about this WordPress Chatbot is that it doesn't require any type of technical knowledge to use it. You can just plug and play with this plugin. It can also work in Natural Language Processing mode, button-driven mode, or a combination of both modes. As per the official description on WordPress.org, the AI Chatbot also functions in all languages.
---
Conclusion
In summary, chatbots are an essential tool for enhancing your services on WordPress websites. The WordPress chatbot assists you and your site in streamlining your workflows, providing valuable insights into your website, and most importantly, increasing your website's conversions (sales, calls, lead generation, etc.) by engaging with your website's visitors in real-time. The plugins we've listed are the ones you can directly download from the official WordPress Plugins Hub and are available at the current time of editing.
Every plugin that we've listed is unique and has its own special features and benefits, making it suitable for many business needs. When choosing a plugin, you'll have to consider their pricing model, customization options, level of integrity with your WordPress website's theme, and support services.
By adding a WordPress Chatbot to your website, you'll have improved customer service, higher conversion rates, and better customer engagement while gaining valuable insights into your customers behavior on your site. So, choose the right chatbot for your WordPress website and revolutionize your online business today!
---
If you love this and want more of our content, here are some suggestions: