9 Best WordPress SEO Plugins (Optimize Your Ranking Position Higher)
WordPress SEO Plugins
Are you looking for the best WordPress SEO plugins to optimize your ranking position higher in the search engine?
Well, SEO plugins play a vital role to improve your ranking and increase traffic level to your site.
If you're worried because of the low ranking problem on your site then used these powerful WordPress SEO plugins and see the difference after using it.
Here we have listed the best WordPress SEO plugins that help to optimize your site ranking higher. Let's check out:
WordPress SEO by Yoast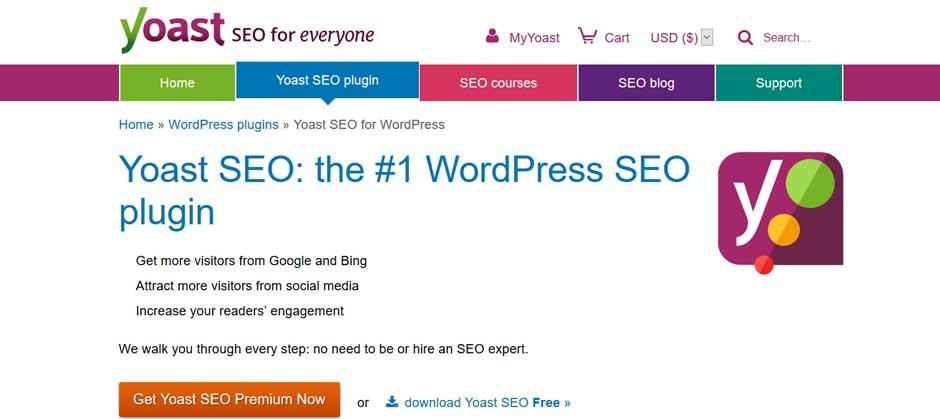 Yoast SEO is the most popular, SEO friendly and most downloaded WordPress plugins. Over 40 million has downloaded the plugins and the feedback regarding the features is excellent. The rating is 4.9/5 which is outstanding. It is available in both free and premium version.
If you're beginners then go with free one but it has limited features only. But the Yoast SEO premium version provided the wide features such as keyword optimization, duplicate content checker, and updated for recent Google's algorithm regularly. The advanced XML sitemaps features submitted your sitemap to Google and  Bing and improve SEO on your site. You can follow the Yoast SEO tutorials as well as how to install Yoast SEO plugin process for more information. See the Yoast SEO review for the genuine feedback from the users.
Key Features:
Analyze the readability
Optimize  the keywords
Avoid duplicate content
Social Integration
Full control over breadcrumbs
Multi-site compatibility
RSS feed footer plugins settings
Rating: 4.9/5
Active installations: 5+ million
Tested up to: 4.9.7
All in One SEO Pack
All in One SEO Pack is the second best WordPress SEO plugin for blogger and to optimize your WordPress site SEO friendly. It is similar to Yoast SEO plugins. The Plugin comes with Support for Google Analytics, Google AMP, XML Sitemap that submitted to Google and Bing to improve your image SEO. The plugins built-in API so that it can access and extend the functionality.
It is very user-friendly for beginners, it works out of the box which means you don't have to look at the options. It optimizes your titles for search engine automatically. However, the All in One SEO Pack Pro version is more powerful on the basis of search engine for your site.
Key Features:
XML Sitemap Support
Advanced Canonical URLs
Redirect attachment pages to the parent post
Avoid duplicate content
Translated into 57 languages
Compatibility with many other plugins
Rating: 4.5/5
Active installations: 3+ million
Tested up to: 4.8.2
SEOPressor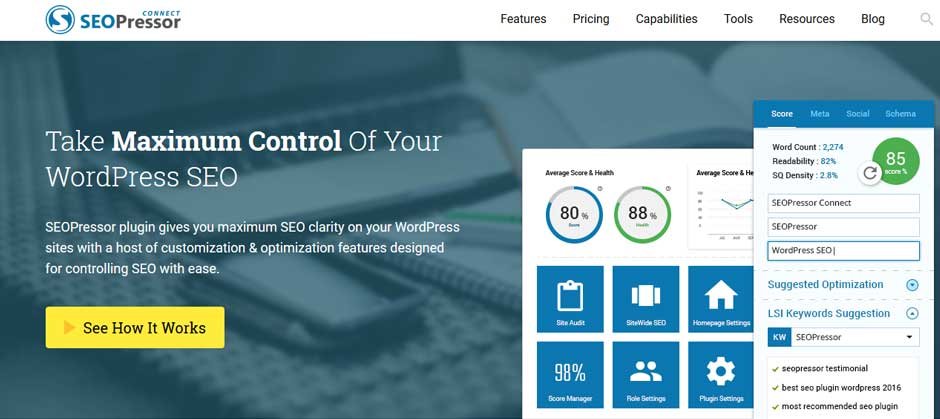 SEOPressor connect is a premium WordPress SEO plugin which comes out with a significant number of algorithmic updates including Google panda, RankBrain and soon. It covers every possible aspect of SEO which gives you instant feedback and optimization suggestions to improve your On-Page SEO signals.
With SEOPressor, the interface is easy to use, simple and intuitive that always maintained, updated and shaking many functional areas of SEO plugin developments.
Key Features:
Automatic smart linking
Dynamic crawler control
Keyword SEO Score Checker
LSI keywords suggestions
Rich snippets to highlight search results
Supports on-page analysis
Rating: 4.5/5
Active installations: 1+ million
Tested up to: 4.8.2
SEO Ultimate
SEO Ultimate is a full-featured plugin that lets you edit your metadata, create internal links and automatically create open graph data. In addition, it comes with a long list of deep linking functions that the draft link activates when published automatically.
The Premium version of SEO Ultimate offers the new features including detailed videos tutorials and custom revision which is not available in free version. It easily adds rich snippet code that attracts eye-catching supplementary SERP data for the search engine.
Key Features:
Deeplink Juggernaut
Link Mask Generator
404 Monitor
Permalink Tweaker
Canonicalizer
Meta Description Editor
Meta Robot Tags Editor
Rich Snippet Creator
Rating: 4/5
Active installations: 100+ thousands

Tested up to: 4.6.7
Premium SEO Pack
Premium SEO Pack is a Premium WordPress SEO plugin that consumes less time for bulk optimization of your WordPress pages and posts. The interest and noticeable features are that it can help you compress CSS and JS to help you optimize to speed up WordPress sites and other sites.
The plugin comes with sets of tools that enhance the appearance of postings to social media accounts. In addition, it provided the XML sitemap and helps you to monitor and redirect all the 404 pages. You can download the Premium SEO Pack nulled version for the more unique features that you cannot find anywhere else.
Key Features:
Automatic XML Sitemap
404 Error Page Monitor
Backlink Builder
Mass Optimization at Once
301 Redirects to Other Pages
Page Speed Insights
Optimize your Website Images
Rating: 4.5/5
Active installations: 10+ thousands

Tested up to: 4.9.7
W3 Total Cache
W3 Total Cache is the best plugin that really helps to improve your website loading speed by minifying large HTML, CSS, and Javascript files. It increases the website performance, as well as the feature like content delivery network (CDN) integration, reduces the download time.
The plugin improves the conversion rates and "site performance" which especially makes the good change in the search engine page ranking. However, the W3 Total Cache settings options are much more advanced to configure for your WordPress website.
Key Features:
Extended Site Caching
Progressive Rendering
Bandwidth Reduction
Accelerated Mobile Pages (AMP) support
Secure Socket Layer (SSL) support
Caching statistics for performance insights
Built-in browser caching controls.
Rating: 4.9/5
Active installations: 1+ million
Tested up to: 4.9.7
Broken link checker 
Broken Link Checker is a free WordPress plugin that allows you to find broken links and missing images in your WordPress site. It especially monitors broken links in your pages, comments, and the blog and informed you if found. The broken link directly impact your site's SEO so to reduced the chances of the broken link, you can use google broken link checker which is free from Google. You can manage redirects the broken links and prevent prospects and customers from losing interest or losing track of you.
Key Features:
Highly configurable
Monitor links in the posts or blogs
Notifies you either Dashboard or E-mail
Filter links by URL, anchor text
Detects links that don't work
Rating: 4.5/5
Active installations: 60+ thousands

Tested up to: 4.8.7
The SEO Framework
The SEO Framework is easy SEO for beginners that provides an automated, accessible, unbranded and extremely fast SEO solution for any WordPress website. It helps to see the SEO title length to edit before you publish.
The plugins come with SEO solutions for WordPress that suggest creating strong content for your blog post. Even it will suggest keeping the description of 140 – 160 characters. It improves search presence by ranking your website distinctively.
Key Features:
Supports custom post such as bbPress and WooCommerce
Create a canonical URL
Adjust SEO using the global option
Prevents 404 pages and empty classifications
XML Sitemap Support
Rating: 4.9/5
Active installations: 30+thousands

Tested up to: 4.8.2
SEO Squirrely
SEO squirrly plugins suggest the better content that helps to improve the ranking of your website. It gives the keywords suggestion for the content, URLs, and title in which the title must be from 75 – 165 characters for the description.
With Squirrly SEO, the Duplicate Remover tools make this plugin 100% safe to use. It displays the green light when you implement an item correctly.
Key Features:
Provides copyright-Free Images
JSON-LD structure and the Squirrly Snippet
Keyword Headline Suggestions
XML Sitemap Support
No Automatic Overwrite
Weekly Monitoring
Rating: 4.7

Active installations: 30+ thousands

Tested up to: 4.8.2

Hope this article may helpful to rank higher in search engine. If you have any others powerful WordPress SEO plugins then share in our comment box so that our readers may get more ideas from you.
If you want to read more related articles then check out: