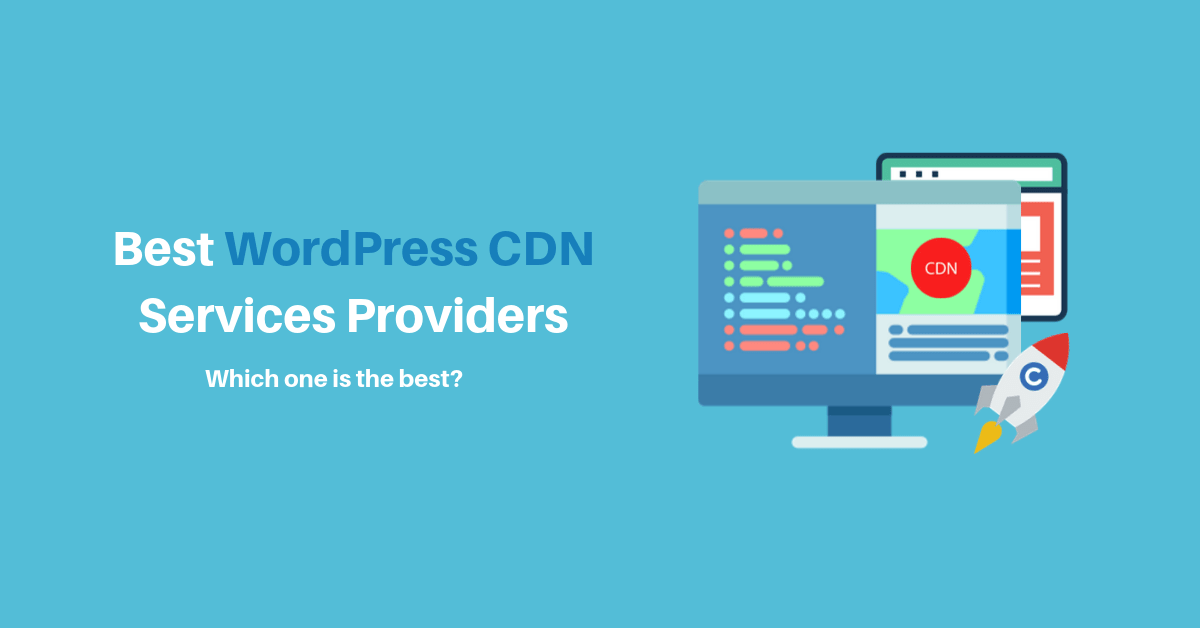 Best WordPress CDN Services Providers (2019) – Which one is the Best?
Do you know about the WordPress CDN and the benefits of using it on your website? Let's learn about the Content Delivery Network and the best CDN services providers for WordPress.
What is a Content Delivery Network?
CDN (Content Delivery Network) is a distributed network based on the geographical location which delivers the Internet content to the end-users.  The goal of CDN is to provide the cached static content instantly such as HTML, images, videos, Javascript and CSS from the websites.
Why do you need CDN for WordPress?
One of the best reasons to use the Content Delivery Network for WordPress is to boost your website speed performance and also helps to load the website speed. Here are other reasons why you need CDN for WordPress:
The use of CDN on your WordPress website identifies and blocks the bad bots traffics which keeps your site more safe and secure.
It also protects your site from malicious hackers and DDoS attacks.
It will show the improvement on the SEO of your website and tends to visible higher on the search engine
CDN built-in with compressing the images and dynamic files as well as caching static and dynamic content which helps to optimize your site and don't need to use the extra plugins for it.
Best WordPress CDN Services Providers to Improve your Website Speed Performance:
There are lots of CDN service providers on the web but in this article, we have prepared the best collection to optimize your site. Look out each service and use it on your site.
MaxCDN
Max CDN is one of the most popular WordPress CDN providers that offer powerful services to optimize the WordPress speed of your website. It manages all the CDN services through the control panel including controlling the different caches, view reports, setup locations, and more.
To reduce the load time, the plugin integrates with the popular WordPress cache plugins – enable CDN and get all the services. They also provide the shared SSL certificate to make your site secure. Its server spread around the world including Singapore, Hong Kong, Sydney and more.
Key Features:
Real-time analytics
Built-in support for HTTP/2
Serve SSL certificates
Simple setup
Cloudflare
Cloudflare is a best free CDN for WordPress that comes with over 150 data centers access around the global. The wide range of security benefits and the use of a shared SSL certificate lets the performance of the website faster and lighter.
It has an easy setup process and user-friendly interface that helps you to speed up your website with ease. They block the malicious threat and protects against DDoS attacks and SQL injections.
Additionally, If you require support then they offer both phone and email services as well as 24/7 support service to their customers.
Key Features: 
Caches both static and dynamic content
Unmetered Mitigation of DDoS
Offers security features
Built-in custom WAF rules
Reputation-based threat protection
KeyCDN
KeyCDN is another commonly used CDN service for WordPress. It delivers both push and pull functionality and prevent your domain from the duplicate content issues. In terms of security, they support the shared SSL and custom SSL certificates for free as well as blocking bad bots that could drain your credits.
The pay-as-you-go options save money and you can only pay for the used service. It comes with a 30-days free trial and Instant account activation service.
Key Features:
Customized TCP stack
Free SSL certificate and HTTP2
Two-factor authentication
Beginner-friendly company's dashboard
Reasonable price
Sucuri
Sucuri is the most well known and loading WordPress security company. They protect your website from malware, hacks and DDoS attacks. It also provides powerful CDN and caches your website content automatically.
With the help of the Sucuri Firewall, it optimized the speed because of the high performance caching. Additionally, the cloud proxy firewall blocks all the malware attacks and protect your website by their powerful security.
Key Features:
Smart caching options
24/7 customer support
Advanced security features
File integrity monitoring
Lets Encrypt SSL support
Amazon Cloudfront
Amazon Cloudfront is a reliable and best WordPress CDN service provider. They have a global network around 79 edge locations including Europe, Australia, Asia and more. It comes with a very easy setup process and uses a multi-tiered approach.
The deep integration of Amazon web service helps to deliver the content to the end-users with fast data transfer speed. The application firewall protects from the DDoS attack risk and keeps your site safe and secure.
Key Features:
Affordable price
HTTP support
Higher availability
Solid CDN services
Wrapping Up
To sum up, these are the best WordPress CDN service providers to improve your website loading speed. If you liked our article then you might like to read our other informative articles here: