Blogging for beginners – How to start a WordPress blog
Over 130,000+ users start a blog, that means starting a blog is not as difficult as you think. I know You must be confused before start a WordPress blog, how it works, Is it the right way or not? And blah blah !! So to overcome your confusion we have some easy steps about How to start a WordPress blog.

WordPress is a great platform for free blogging where you can share your articles with the public.
How to start a WordPress Blog steps by steps?
We need 7 steps to start a WordPress Blog
Choose your best blogging platform
Create a domain name and get web hosting
How to setup WordPress
Selecting a WordPress theme
Start a first blog post
Customize your blog
Promoting your blog to get traffic
Step 1: Choose your best blogging platform:
At the beginning stage, people frequently make mistake while choosing a blogging platform. There are certain platforms like WordPress.org, Blogger, Tumblr, etc.
Maximum users prefer to use WordPress.org. It is also known as a self-hosted WordPress. It is free, easy to understand, you can install plugins, customize your site design, and ideal for individuals who've never familiar with a blog before.
Furthermore, details check out the difference between WordPress.com vs WordPress.org – What's the difference?
Step 2: Create a domain name and get web hosting:

Basically, You need two things:- Domain name and Web hosting.
Simply, Domain name is your blog's name. It's your website's address on the internet. For example mysterythemes.com. It is important to engage with website visitors. You can change your domain later if you want.
Web hosting is the service that makes your website available to be viewed by others on the Internet. Most hosting companies require your domain in order to host with them. If you do not have a domain, the hosting companies will help you purchase one.
If you are looking to purchase a domain and hosting then I would like to recommend Bluehost.
Bluehost is one of the largest Web hosting company that provides hosting service with unlimited hosting space, bandwidth & email accounts.  It is one of the 20 largest web hosts, collectively hosting well over 2 million websites, and it is one of the most popular, inexpensive, shared hosting options available.
To register the account and log in.
Open the Bluehost site and Click the "get started now" button.
Then you have to select your plan. They show you 3 plan "Basic, Plus and Prime". I would like to recommend Basic because it is used by most users.
After selecting a plan, Type New domain name for your site and Click "next".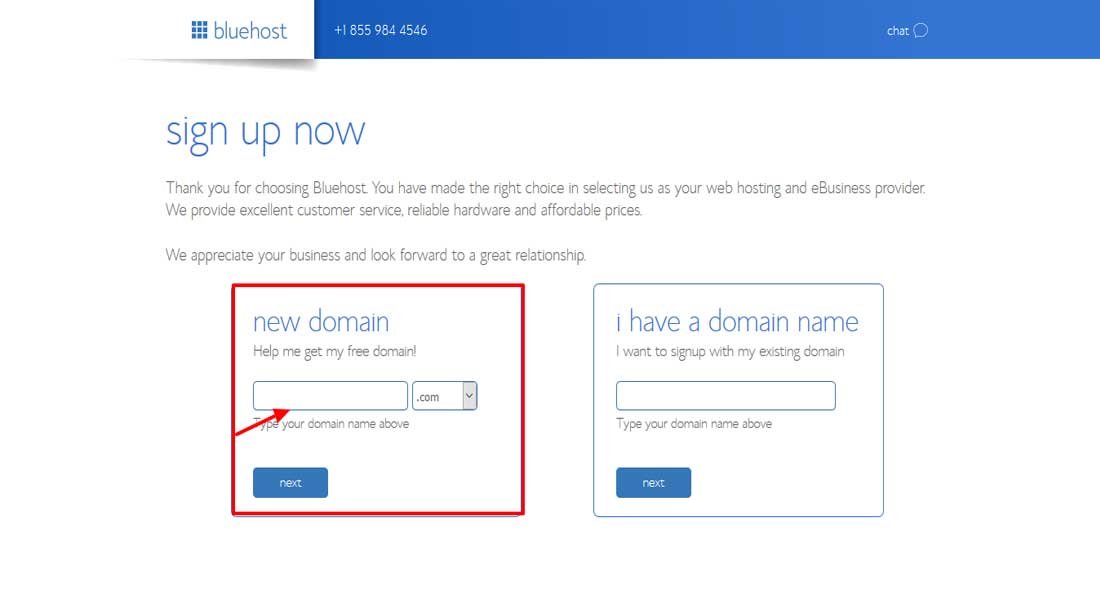 Next, you have to fill up the account information and show you the Package information.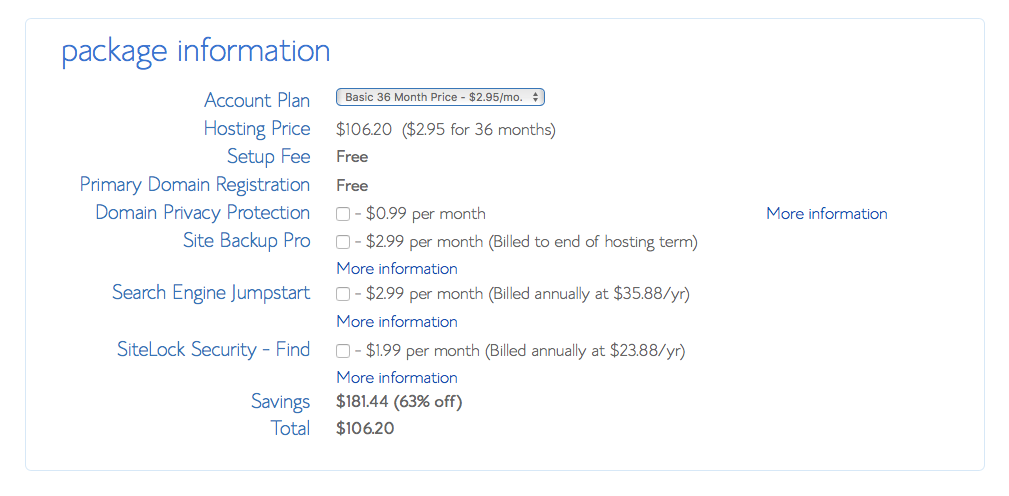 Choose the 36-month price account plan because it is the best price. Other options are not necessary for beginners later if you need that you can buy it.  After that, they will show payment information. You can pay the amount by credit card or PayPal, it's your choice. Next, install WordPress on Bluehost.
Step 3: How to setup WordPress:
Some steps are needed to know how to install WordPress. Follow the instruction below correctly to install WordPress on Bluehost:
Login to your Bluehost control panel at my.bluehost.com
Once you're signed in, you'll be diverted to your Control Panel. From that point, click"Install WordPress".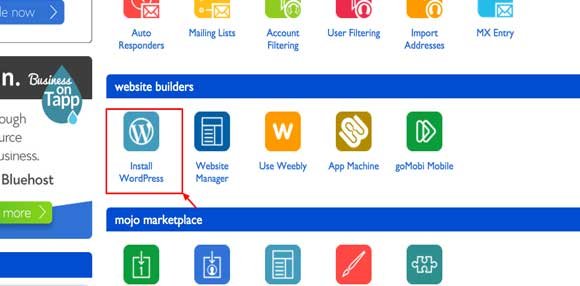 ]
After that choose your domain name and click the "Next" button.
Later on, mark on the terms of service enter the username and password and click on the "Install" button.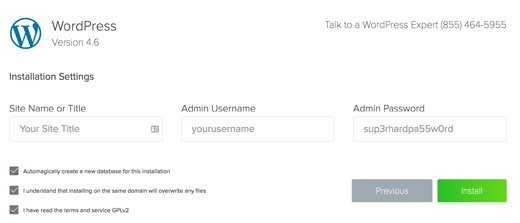 Within a moment, you'll have a completely useful WordPress blog up and be running.
After installation click, it will give you an affirmation screening demonstrating to you your exceptional WordPress login URL that will resemble this:
http://yourdomain.com/wp-admin
http://yourdomain.com/wp-login
You'll use the same username and password. After signing in, you'll see the welcome to the panel or you are logged in into Dashboard. You are now able to customize the blog.
Step 4: Selecting a WordPress theme:
When You first logged in to your site, you'll see your WordPress blog is controlled by themes like this: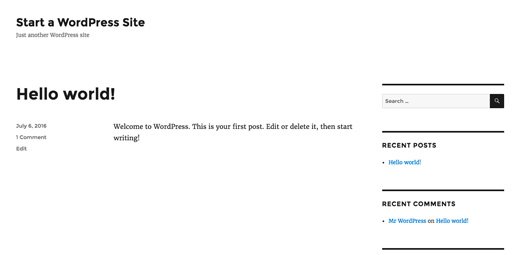 The interesting and exciting part is selecting a theme. Yes, you can change your blog theme. There are plenty of WordPress themes that you can choose for your site. But only free themes are allowed to install, Others are paid.
If you don't know how to change the WordPress theme then follow the steps:
Go to the WordPress dashboard and click on Appearance » Themes.
You'll see Add New button at the top. Click that button.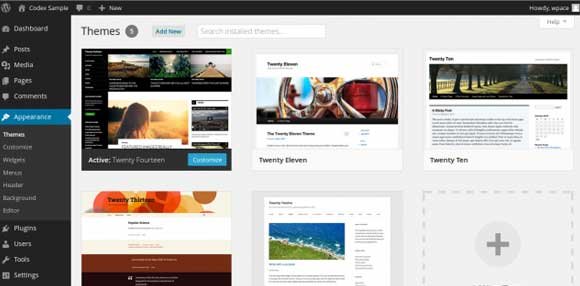 On next screen, you'll see thousands of theme sorted by popular, latest, featured, as well as other feature filters. Choose a free theme in the beginning.
After choosing a theme to bring mouse on it, it shows you installed button. Click on it.
If the theme is installed then install button is replaced by the activation button. Click that button.
Congratulation, you have changed your WordPress theme.
Step 5: Start your first blog post:
To start your blog, Go to Posts » Add New menu on your WordPress Dashboard.
You can see the editor area. You can edit your title and blog. Also can add media, insert link or much more.
If you're ready to publish your blog then go to the right. Click the publish button.  Now, your blog is published all over the world.
Step 6: Customize your blog:
Entering into Dashboard, You can customize your blog. You'll see different menus items.
Don't get panic, Slowly you'll get familiar with dashboard because it is straightforward, easy and User-friendly. Here are the various menus:-
Dashboard
Posts
Media
Pages
Comments
Appearance
Plugins
Users
Tools
Settings
Once you're done your blog then you can customize these menus as per your needs.
Step 7: Promoting your blog to get traffic:
Promoting your blog is the main part after you published your blog. Thousands of blogs are posted every second all over the world. If you want to grow your traffic then Yoast SEO should be green, add better keywords, promote on social media like facebook, twitter, Instagram, etc.
These are the tips to start a WordPress blog. Hope this helps you to make your blogging journey easy and enjoyable. 🙂