How to Add Google AdSense to your WordPress Site
add google adsense to your WordPress site
Do you want to earn money using Google Adsense?
Google Adsense is the best and easiest way to monetise your website. It specializes in creating and placing ads on your website. It's super easy to start and add Google Adsense in WordPress website.
Today, we'll learn how to add Google Adsense to your WordPress site and start earning money.
What is Google Adsense?
It is a free platform that allows you to earn money by displaying targeted ads on your site.
Google AdSense is the most popular advertising google program. It is a free network that allows you to earn money by displaying targeted ads on your site. It allows webmaster and blogger to display ads that are relevant to the content of your website. The ads can be texts, images, video, as well as animated videos.
Google Adsense generates revenue on per click basis. Hence you'll get money each time someone clicks you add. It is fast, reliable and easy to use. All you have to do is add one piece of javascript code and Google will automatically show ads on your site.
Having said that, let's get started:
Step 1: Create a Google Adsense Account
First of all, you'll have to create a Google Adsense account. It is the first step of website monetization.
Go to the Google Adsense website and click on the signup button.
Next, enter your website URL and email address.
Choose whether you want to receive help to your email address by selecting your preferred option and click the Save and Continue button.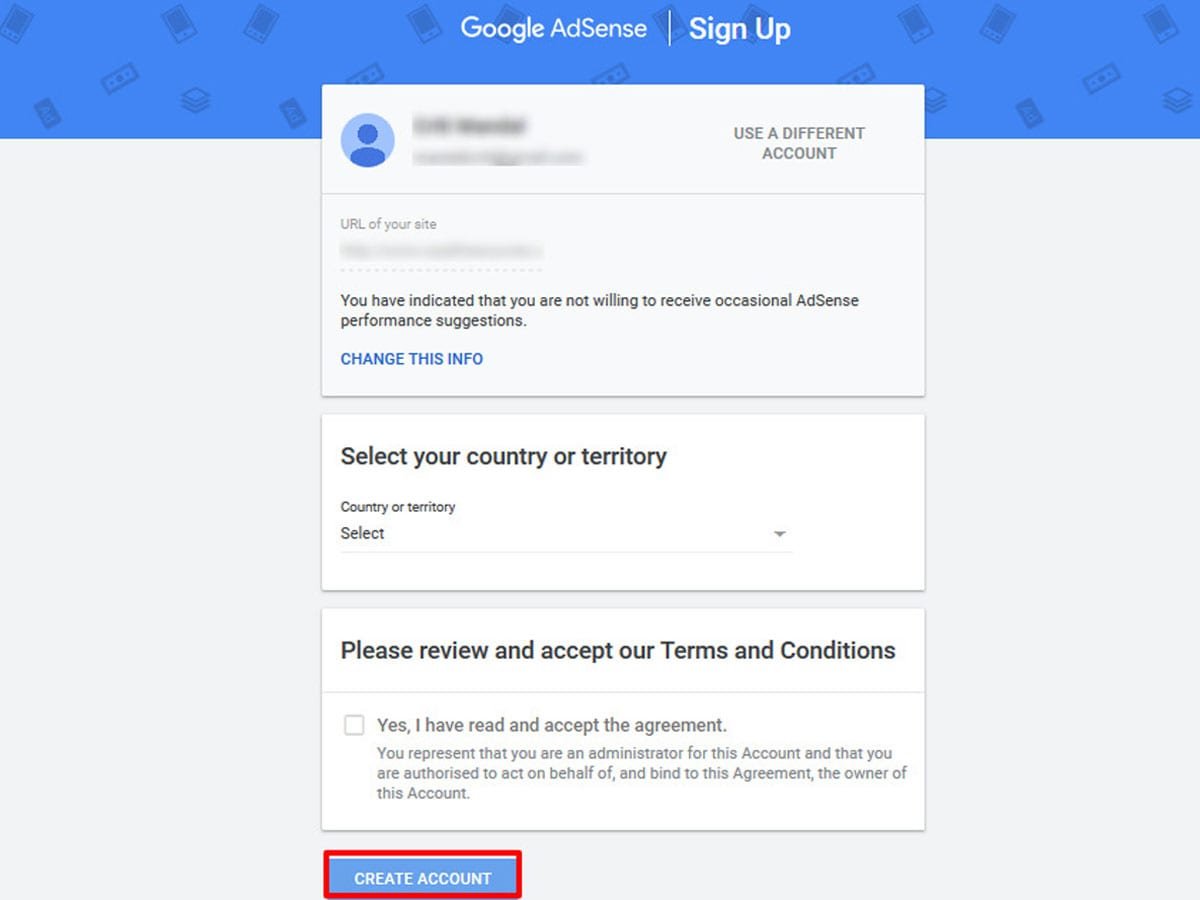 Now, select the country. Then read and accept the Terms and Condition of Google Adsense.
Finally, click on the Create Account button.
It will take a few days for your application to get approved. Once, your request is approved you'll get an email then you can start creating ads.
Step 2: Create Google Adsense Unit
Now, it's time to create a Google Adsense unit. Adsense unit is one or more ads displayed due to Adsense code. You can customize and manage ad units from your Adsense account.
Login to your AdSense account and go to My Ads>>Content>>Ad Units. 
Then click on the New ad unit button and choose an ad type.
 Give new ad unit a proper name. The name is used only for the internal purpose.
Next, choose the ad size form the available option. You can choose from the recommended list for the best result.
 Next, select the type of ads. If you are not sure which type to use, simply choose the default Text and display ads.
You can also choose the Ad Style to make your ad more suitable for your website design.
Custom Chanel menu option allows you to track the performance of the ad units. It is optional so you can skip this if you don't need it.
The last option is the Backup ad unit. In this section, you can specify what you want to show if Google has no appropriate ad available.
Finally, click on the save and get the code button.
Copy the java code and paste it on the notepad. You'll need this code to add the Google Adsense to your WordPress website.
You have successfully created your first Ad unit.
Step 3: Add Google Adsense to your WordPress Site

Now, that you have created a Google Adsense account, the next step is to connect Google Adsense with WordPress. To do so, you'll have to add an HTML code to your WordPress site.
You can insert the ads in the header, footer, sidebar or specific post or pages of your site. I'll insert the ad in the sidebar using widgets.
Login to your WordPress admin area and navigate to the Appearance>>Widgets.
Drag and drop the custom HTML widget from left-hand side to the sidebar.
Now, paste the Adsense code in there.
Click on the save button to save changes.
That's it! You have successfully added Google Adsense to your WordPress website. Check how your ads look like on your website.
Google AdSense Best Practice Tips
The ad placement is the key when it comes to getting more clicks. The best placement for the ad is on the header right above your content and the best ad size are 336 X 280 and 300 X 250. As this practice seems to have the best click-through rates. You can also install the Adsense optimized WordPress themes to increase the revenue.
You might be tempted to click on your own add on the website or you might ask your family and friends to click on the add. However, you should not do that. Google uses multiple methods to find possible misuses of Google Adsense. They might ban you from the program as a punishment.
Wrapping Up
To wrap up, you can add Google Adsense to your WordPress site and monetize your website. I hope you find this article helpful. Don't forget to follow us on Twitter and Facebook.
If you have any queries write to us in the comment section below.
You might also like to read our other informative article.